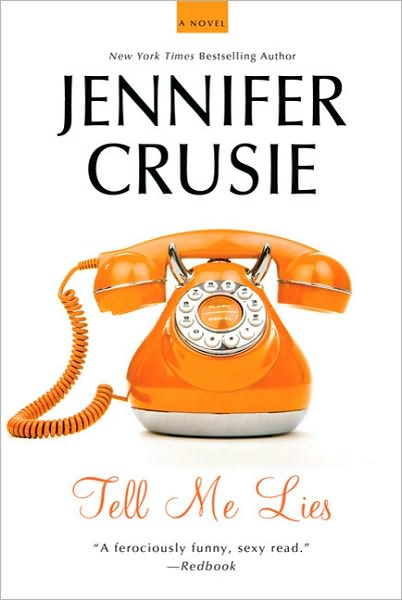 Even on her warmest, fuzziest day, Jennifer Crusie doesn't go for the hearts-and-flowers approach to romance writing. Her books are funny and sharp-tongued and sexy, and even her sweetest titles—which the recently re-released
Tell Me Lies
and
Crazy For You
are
not
—generally focus as much on self-respect as they do on falling in love.
Tell Me Lies
was originally released in 1998, and gave readers their first glimpse of Crusie's now-signature blend of romance, mystery, and screwball humor. Her heroine is Maddie Faraday, a teacher, mother, wife, and lifelong resident of Frog Point, Ohio, a tiny town where everybody knows everybody else... or thinks they do. Maddie can't imagine living anywhere else, but when she finds a stranger's underwear in her husband's car and the guy she lost her virginity to twenty years ago turns up on her doorstep, kicking her old life to the curb starts sounding pretty good.
1999's
Crazy For You
is the story of Quinn McKenzie, an easy-going art teacher stuck in a boring-as-dirt relationship with the local high school's baseball coach. Quinn has spent her whole life trying to make other people happy, but when she decides to adopt a stray dog despite her boyfriend's objections, her formerly quiet existence is hit with a whirlwind of dog-napping, stalking, and some seriously hot vibes coming from a unexpected source.
We're never thrilled when paperback re-releases cost $14.99, but at least readers are getting their money's worth with these titles.
Crazy For You
and
Tell Me Lies
are suspenseful, steamy, and laugh-out-loud funny, and their punchy new covers are a great match for Crusie's style. These books are a hair closer to Crusie's earlier, less polished series romances than her recent batch of standalone novels (a run that began with 2000's
Welcome to Temptation
and includes
Fast Women, Faking It
, and the jaw-droppingly awesome
Bet Me
), but her early work was nothing to sneer at*.
Crazy For You
and
Tell Me Lies
are beach reads with good hearts and sharp teeth—pick 'em up the next time you're in a mood for romance with some bite to it.
*With the possible exception of her long-out-of-print novel
Sizzle
, which Crusie has repeatedly assured fans is terrible. I, sadly, have never read it, and I see Crusie has removed it from her
webpage
, which I suspect means dark things for its reprinting prospects.
[
Reviews based on publisher-provided copies.
]
No new comments are allowed on this post.