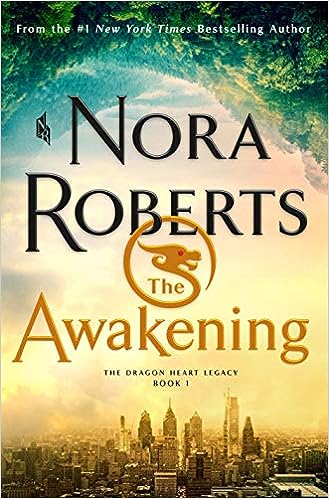 Nora Roberts's attempts at writing an epic fantasy have been hit-or-miss, in my opinion, but she keeps on trying. She has already made her fame and fortune twice over (as a conventional romance novelist under her own name, and as an author of futuristic romantic mystery as J.D. Robb), so at the very least I applaud her work ethic as she sets out to dominate yet another genre—no matter how mediocre the results.

The first installment of Roberts's most recent fantasy series is called The Awakening. The story opens in Philadelphia, where 26-year-old Breen Kelly is an unhappy middle school teacher with low self-esteem and a mountain of student debt. She has a strained relationship with her mother, which takes an abrupt turn for the worse when Breen discovers that her mother has been hiding an investment account in Breen's name—an account that would have made her life infinitely easier, as well as being proof that her long-lost father had continued to contribute to her care, despite his disappearance twenty years earlier. Accompanied by her devoted best friend Marco, Breen decides to spend some of her newfound wealth on a trip to look for her family's origins in Ireland... where she discovers that her past is connected to a magical world, equally full of danger and opportunity.

Like almost all of Roberts's books, The Awakening features expertly handled pacing, characterization, and world-building. I was particularly invested in Breen's friendship with Marco—Roberts has always had a gift for writing friendships that feel genuinely lived-in. Unfortunately, this book eventually runs into the same problem that has bedeviled all of Roberts's attempts at writing fantasy: her vision of a magical world is devoid of both originality and personality. A-grade fantasy should have something genuinely weird about it, but Roberts keeps churning out stories that feel like a generic adventure/fantasy movie made in cooperation with the Ireland Tourism Board. I keep hoping that one day she'll try something truly different, because Lord knows she has the skill and the drive, but thus far she seems to be sticking with the formulas that have served her so well in other genres.
Your Comments
Preview