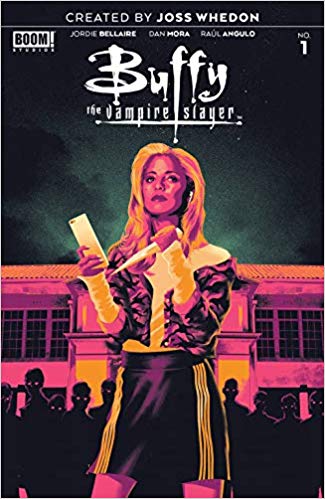 More than twenty years after the TV series' debut (and twenty-seven after the original movie), and despite a plethora of spin-offs, continuations, and a potential reboot, BOOM! comics decided that what the world needed was yet another take on Buffy the Vampire Slayer. This time it's a modern-day retelling of the original series, and while a few aspects of it work, thus far the storytelling well is looking pretty dry.

Writer Jordie Bellaire and artist Dan Mora have made several changes for this adaptation, although their master plan is unclear. In addition to modern clothing and technology, the characters appear to be at different points in their respective storylines. There's fast-food-producing loner Buffy and confident, openly gay Willow, while Xander and Giles appear to be Original Flavor. Joyce is alive and Anya is around (although she seems to have no connection to the others). I would weigh in on the plot, but there isn't one—the first issue is entirely devoted to introducing the cast.

Frankly, this series is fighting an uphill battle. The artwork is excellent (way better than the Dark Horse continuation of the original series) and the quips and one-liners are amusing enough, but literally nothing about this first issue suggests that this is a story that needed to be told. I'm willing to give it a few more issues to see if things improve, but right now you're better off searching the internet for some well-reviewed alternate-universe fanfiction. There's plenty of it out there, and it has the additional benefit of being free.
No new comments are allowed on this post.