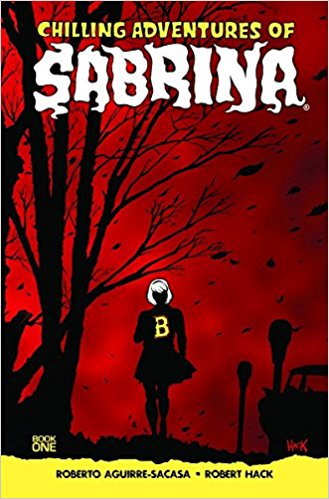 Following the success of the recent H.P. Lovecraft-inspired
Afterlife with Archie
series, Archie Comics decided to follow it up with a Sabrina the Teenage Witch-inspired title,
Chilling Adventures of Sabrina
. The two series don't seem to exist in the same world, but they have one major thing in common: both are remarkably effective horror stories.
Witch-in-training Sabrina Spellman is about to turn sixteen, and it's time to choose—join her supernatural family, or stick with her mortal boyfriend. Sabrina hasn't made up her mind, but one of her family's enemies is lurking in the wings, determined to force her hand. Madam Satan has arrived in Greendale, and she appears to hold all the cards...
Sabrina
is an excellent pastiche of vintage horror comics. The artwork is straight out of a
Gothic title from 1973
. The story thus far is intriguing, although the writer seems more interested in the trappings of his world than his storytelling. Maybe these characters are so well-known to longtime
Archie/Sabrina
readers that this version's slapdash development doesn't matter, but for someone like me, the few details Aguirre-Sacasa includes about Sabrina and her friends just makes them seem extremely unpleasant. I'm totally in favor of faux-vintage horror, but I wish this series had included at least one character I could root for.
No new comments are allowed on this post.