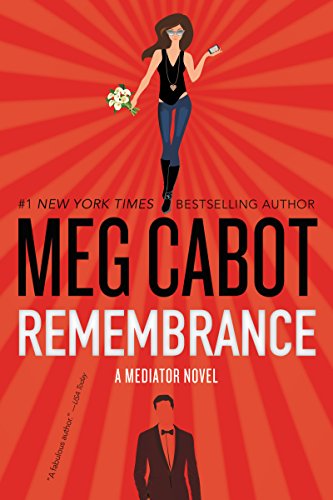 Remembrance, the fifth and final book in Meg Cabot's 'Mediator' series, is her third attempt at transforming one of her YA series into a story for grown-ups. The end result is vintage Meg Cabot—brash, funny, and just a little bit lazy—but now with more swearing, violence, and sex.

Six years after high school, Suze Simon is interning as a guidance counselor, planning her wedding to her (formerly deceased; currently a medical resident) fiancé Jesse, and continuing her work as a Mediator, encouraging reluctant ghosts to cross over to the other side. Her life skids off the rails when she's suddenly hit with a double-punch of disaster: the angry ghost of a murdered child, and the return of Paul Slater, fellow Mediator and all-around pain in the ass. Suze has no intention of losing to either the ghost or Paul, however, and will stop at nothing to get things sorted out.

Meg Cabot books are a 100% satisfaction-guaranteed good time, Suze remains an utterly winning heroine, and I was still invested in both the romantic and horror elements of this series. But while I totally enjoyed Remembrance, I'm holding out hope that one day Meg Cabot will write a book as good as Jennifer Crusie's Bet Me. I'm pretty sure Cabot has at least one truly great novel in her, but she's going to need to do more than just coast by on her considerable charm.
No new comments are allowed on this post.