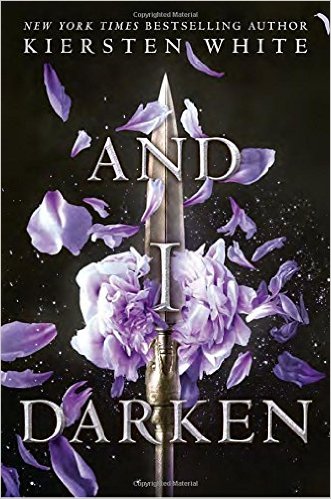 As one might expect from a story about a gender-swapped version of Vlad the Impaler, Kiersten White's
And I Darken
is heavy on angst and violence. On the other hand, it is also unexpectedly well-researched and thoughtfully constructed—despite the lurid nature of her subject matter, White has written a respectable alternate-history fiction, not the YA equivalent of
Dracula Untold
.
And I Darken
is the story of Lada Dragwlya, a princess of Wallachia (part of modern-day Romania). When Lada's father needs to prove his loyalty to the Ottoman Empire, Lada and her younger brother Radu are given to the Ottoman court as hostages. Fearless, furious, and prickly, Lada wants nothing more to return to her homeland, while gentle, observant Radu adapts far more gracefully to their new life. The siblings strike up a friendship with Mehmed, the lonely son of the sultan, but their bond is dangerous: all three want something different from the relationship, and none of them are likely to be satisfied.
White obviously put a tremendous amount of work into
And I Darken
, creating an intriguingly complicated heroine and a compelling storyline. There's really only one problem with this book, but it's major: right now, at least,
And I Darken
features no fantasy elements, and fantasy elements are literally Lada, Radu, and Mehmed's
only shot
at a happy ending. I have nothing but respect for this author's ambition and creativity, but it's hard to stay invested in her characters when they are so clearly, unmistakably doomed that only a lucky break (like vampirism!) can save them.
Review based on publisher-provided copy.
No new comments are allowed on this post.