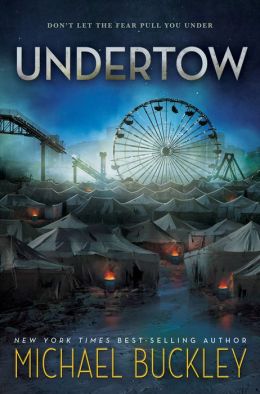 Michael Buckley's
Sisters Grimm
is one of my all-time favorite kids' series. The books have their problems—actually, some
really big problems
—but they are so funny, romantic, and action-packed that it's easy to overlook their flaws. Buckley's new YA novel
Undertow
is much darker than his previous books, but it offsets the lack of "funny" by dialing "romantic and action-packed" up to 11.
Set in a twisted version of modern-day Coney Island,
Undertow
is narrated by sixteen-year-old Lyric Walker. Three years before the events of the novel, a new species of humanoids walked out of the sea—the Alpha, or First Men. Humanity's initial wonder quickly changed into fear, and the Alpha are now confined to a huge, heavily-guarded refugee camp on the beach. Lyric has spent the last three years trying to conceal a secret of her own, and when the government announces that the Alpha teenagers will be forced to attend her high school, she realizes that her entire life is suddenly going to become the target of world-wide scrutiny.
Undertow
features so much world-building that the actual plot feels like an afterthought. (Seriously, around the 80% mark, a new threat is discovered; Lyric discovers that she has power that will enable her to defeat it; the end.) On the other hand, the world-building in question is
awesome
. Buckley sets his novel several years after the Alphas' arrival, which allows him to neatly bypass the presumably intense and complicated dramatics of their introduction. Instead, we have a highly personal account of a girl growing up in an enclosed, poorly controlled area that constantly hovers on the brink of violence. The rushed plot development at the end of the story makes it hard to care about that specific threat, but I'm totally invested in both Lyric as a character and the world Buckley has created, and I'm already looking forward to the next book in this series.
No new comments are allowed on this post.