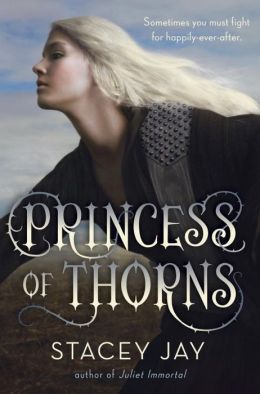 Stacey Jay's first
two
novels
had plot holes the size of the Grand Canyon, and my hopes for her future efforts were not high. Her
third book
—a sci-fi retelling of
Beauty and the Beast
—was much more successful, and her latest effort,
Princess of the Thorns
, is better still. This woman is trending
up
, you guys, and I am hugely impressed by how much (and how fast) her writing has improved.
Princess of Thorns
is the story of Princess Aurora, the exiled only daughter of Sleeping Beauty. Before dying, Sleeping Beauty gave Aurora four fairy gifts: bravery, a merciful nature, enhanced strength, and "a heart no man... will dare defy". When her brother is kidnapped by an evil queen, Aurora disguises herself as a boy and sets out to rescue him. In fine fairytale fashion, she promptly meets the handsome and charming Prince Niklaas, and the two become uneasy friends. They can't help but like one another, but Aurora won't reveal her true identity, and Niklaas won't explain why he's so hell-bent on marrying a princess—
any
princess—before his upcoming 18th birthday.
Princess of Thorns
still has its fair share of problems: Aurora's plan never makes much sense, the ending feels slapped together, and several intriguing fantasy elements were underdeveloped (Aurora's fairyland childhood, for example). Happily, Jay's romantic storyline is so strong it makes up for 95% of her story's weaknesses—Aurora and Niklaas have Grade-A chemistry, and I was totally invested in their happily-ever-after. I genuinely enjoyed
Princess of Thorns
, and I'm looking forward to reading Jay's next book. If she continues to improve at such a tremendous rate, she's only a few books away from becoming one of the top YA romantic-fantasy writers on the market.
Review based on publisher-provided copy.
No new comments are allowed on this post.