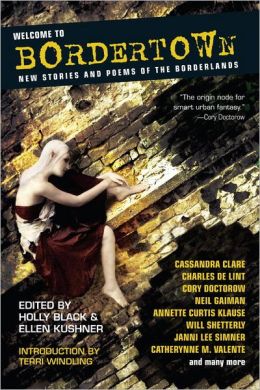 Inspired by Robert Lynn Asprin's long-running Thieves' World series, editor and author Terri Windling created the shared-world Borderland series in 1985. Borderland was followed by 1986's Bordertown and 1991's Life on the Border, and in 2011, twelve years after the publication of The Essential Bordertown, the series was revived by Holly Black and Ellen Kushner, with Windling's blessing and participation.

Welcome to Bordertown is a collection of 22 stories and poems from well-known fantasy writers centering around the inhabitants of Bordertown, the dangerous and chaotic urban landscape that links the human world to the magical one. After a mysterious force seals Bordertown for thirteen years, it's suddenly open again, welcoming—or maybe entrapping—a fresh group of misfits, runaways, and artists.

As with any anthology, the efforts in Welcome to Bordertown vary in quality: some of the stories feel more like vignettes, a few are outright silly, and pretty much all of the poetry is weak. But more than half of the entries are at least reasonably entertaining, Annette Curtis Klause's "Elf Blood", Will Shetterly's "The Sages of Elsewhere", and Ellen Kushner and Terri Windling's "Welcome to Bordertown" are outstanding, and Cory Doctorow's "Shannon's Law" is so much fun I hope he turns it into a full-length novel. At a 500+ pages and $10.99, urban fantasy fans are getting a steal.
No new comments are allowed on this post.