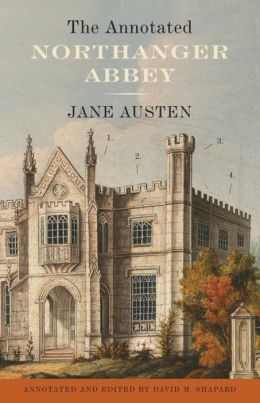 Jane Austen's
Northanger Abbey
is her earliest completed novel—she started writing it in 1798—but one of her last to be published. (It was released posthumously, along with
Persuasion
, in 1817.) Some critics lump it in with her juvenilia, but it's a remarkably ambitious and entertaining work, even if it isn't quite on par with her later books. Last fall, Anchor Books released a handsome paperback edition of
Northanger Abbey
featuring annotations by David M. Shapard, the editor of their entire line of Austen reprints.
With
Northanger Abbey
, Austen attempted to write a story that worked as both a lighthearted parody of the Gothic novels of the period and a sincere attempt to transform the fundamental elements of Gothic storytelling into a more prosaic (but still enjoyable) adventure. Austen's heroine is 17-year-old Catherine Morland, a naïve young woman addicted to Gothic literature, particularly the books of Ann Radcliffe. While visiting Bath, Catherine meets Henry Tilney, a handsome, witty clergyman. Henry's father is oddly enthusiastic about his son's new ladyfriend, despite her lack of fortune or connections, and absolutely
insists
on her visiting the Tilney family's ancestral home: Northanger Abbey, which, while a far cry from the gloomy castles featured in Mrs. Radcliffe's novels, has dangers of its own.
As
Northanger Abbey
is rarely assigned in schools, I'm assuming that this book will mostly be read for pleasure. As a recreational reader, I think I'd find several of Mr. Shapard's more obvious annotations downright insulting. Do people who voluntarily read 19th century novels really need to be told that "Catherine coloured" means "Catherine
blushed
"? (I mean... we're not likely to assume that she whipped out a 64-pack of Crayolas, are we?) Also, this edition would have benefited from more in-depth analysis and plot summaries of Mrs. Radcliffe's novels. While Shapard offers brief descriptions of these largely forgotten bestsellers, he doesn't go into enough detail to give a strong sense of the types of stories Austen was parodying—and, trust me, most people will be far happier reading a detailed summary of
The Mysteries of Udolpho
than the book itself.
Despite the above omissions and missteps, I found a few of Mr. Shapard's annotations quite helpful—for example, I had never grasped the joke of the characters taking a proposed trip to see the medieval glories of
Blaise Castle
, "the oldest [castle] in the kingdom." (Thanks to this book, I now know that Blaise Castle is a sham castle built by a Bristol merchant in 1766, less than forty years before the events of the novel, making it about as authentically Gothic as Sleeping Beauty's Castle at Disneyland.) Plus, this particular edition is absolutely gorgeous, and, at $16.95, very reasonably priced. People looking for a more thoughtful reading experience might be better off picking up
this literary two-pack
that combines
Northanger Abbey
with Ann Radcliffe's
The Italian
, but readers looking for a sturdy, elegant, and informative edition of
Northanger Abbey
are totally in luck.
No new comments are allowed on this post.