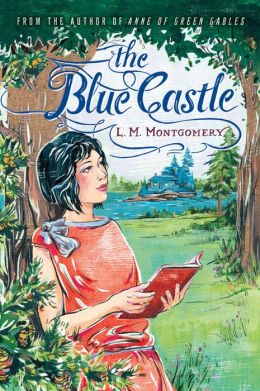 Originally published in 1926, L.M. Montgomery's
The Blue Castle
is one of the most unabashedly
sweet
books I have ever read—an old-fashioned, utterly straightforward romance. It's the story of 29-year-old Valancy Stirling, a downtrodden spinster who has spent her life trying (and failing) to please her judgmental relatives. When she discovers she has a heart ailment that will almost certainly kill her within a year, Valancy decides to enjoy whatever time she has left. She leaves home, gets a job nursing a gravely ill childhood friend, and tumbles into love with the mysterious town recluse, Barney Snaith.
I first read
The Blue Castle
as a teenager, but it was a pleasure to revisit it. I loved Valancy's single-minded pursuit of happiness, and the romance between her and Barney is sentimental but satisfying. I found I had a lot more questions now than I did when I was a kid (mostly, it must be said, about the existence of Valancy and Barney's delicately hinted-at sex life), but I know I should probably just draw a discreet Edwardian veil over such things and accept the story at face value.
While I am genuinely grateful to Sourcebooks for making this book widely available again, I was disappointed in their choice of cover art. I like the artwork featured on their
other Montgomery reprints
, but the image featured on
The Blue Castle
makes the story look juvenile—and not like the kind of thing a juvenile reader might actually choose for themselves, but rather the kind of thing a loving great-aunt might buy for an 11-year-old grand-niece. That will be a lucky break for any 11-year-old grandnieces out there, but I
so
wish Sourcebooks had gone with either a more dignified image (like
this one
) or a more elegantly vintage one (like
this
, their reprint of
A Tangled Web
, Montgomery's only other novel written for adults). Either option would have been a far more effective advertisement for such timeless romance.
Review based on publisher-provided copy.
No new comments are allowed on this post.