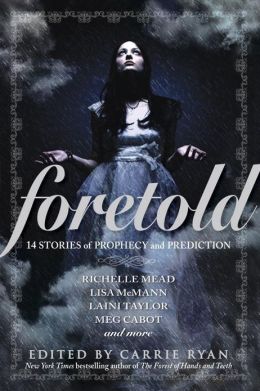 Foretold: 14 Stories of Prophecy and Prediction
is a collection of short stories written by a bunch of well-known YA authors and edited by
The Forest of Hands and Teeth
author Carrie Ryan. Don't let the supernatural-horror cover art fool you: the "predictions" in these stories range from Greek mythology-style prophecies of doom to hopeful signs in lovely teen romances, so there's something for everyone.
Most of the contributions can be sorted into three types: horror, comedy, and fantasy. Laini Taylor's "Gentlemen Send Phantoms" was the best of the fantasy stories, playing with the tradition of girls attempting to divine the names of their future husbands. The creepiest was Diana Peterfreund's "Burned Bright", centered around the daughter of a doomsday cult leader. Michael Grant's "This Is a Mortal Wound" (about a boy in the near future battling his teacher's old-fashioned ideas about education) and Meg Cabot's "Out of the Blue" were both goofy, breezy fun. There were a couple of excellent unclassifiable stories, too—Matt de la Pena's "The Mind is a Powerful Thing" crammed a novel's worth of characterization into less than twenty pages, while Simone Elkeles's "Fate" was just straight-up sweet.
Not everything worked. I had the same problem with Ryan's "The Killing Garden" that I
eventually developed
with her
Forest of Hands and Teeth
series—too much gore, and too little plot to justify it. Richelle Mead's "Homecoming" features the protagonists from her
Vampire Academy
books, which is nice for her preexisting fans, but wasted on new readers. Kami Garcia's "Improbable Futures" aimed for atmospheric and creepy, but crashed-landed in squalid and depressing. Happily, these are minor aberrations in an otherwise solidly entertaining collection, making
Foretold
(at $9.99) an excellent value and a quick, easy way to sample the work of more than a dozen popular writers.
Review based on publisher-provided copy.
No new comments are allowed on this post.