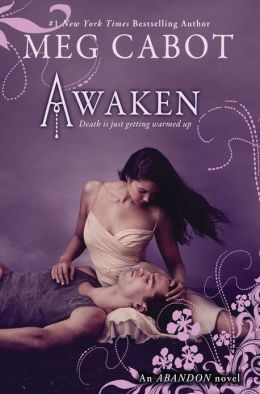 I've been waiting a whole year to review Meg Cabot's novel
Underworld
, the middle book in her
Abandon
trilogy. I read it as the minute we received it (because Cabot's books are always fun), but if I had any self-control I would have
followed my own advice
and waited until the final book in the trilogy was released.
Happily,
Awaken
hits stores on Tuesday, and by now Cabot's many fans should know what to expect: lots of snappy dialogue, a broody, bossy, quietly devoted love interest, and a heroine discovering the power of taking names and kicking butt. This particular heroine is Pierce Olivera, a teenage girl who survived a near-death-experience after nearly drowning in her family's pool. During her brief sojourn in the afterlife, Pierce met John, the death deity in charge of riding herd on the recently deceased. John is smoking hot and utterly (some might say "obsessively") in love with Pierce, but there's an obstacle to their relationship: Pierce doesn't want to abandon her family and live in his underground castle forever, even when her life in the real world grows increasingly dangerous.
The problem with this series is it's essentially a single story, arbitrarily split into three books—
hardcover
books, costing eighteen bucks apiece. The first story introduces the characters, the middle book deepens the conflict, and the third is all plot climax and resolution. This means
Abandon
suffers in comparison to Cabot's earlier
Mediator
and
1-800-Where-R-You
series, both of which were broken into much more satisfying individual installments. The idea of a doing a teen-friendly reworking of the Hades and Persephone myth is fun (particularly if you don't think about the plot details too hard), and Cabot's writing style is as breezily charming as ever, but I still can't recommend this series as a particularly good value.
Reviews based on publisher-provided copies.
No new comments are allowed on this post.