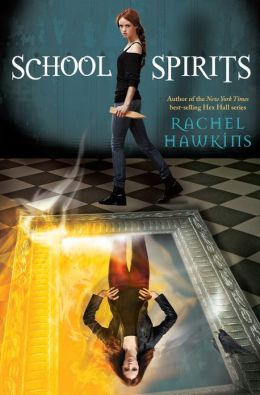 Slightly more than a year after releasing Spell Bound, the (totally disappointing, it must be said) conclusion to her Hex Hall series, Rachel Hawkins has returned to familiar territory in School Spirits, the first book in a Hex Hall spin-off series devoted to a different branch of the monster-hunting Brannick family.

Fifteen-year-old Izzy Brannick has spent her entire life training to become a "true" Brannick. She can fight vampires, subdue witches, and lay ghosts to rest, but none of her unique talents have helped her discover what happened to her older sister, who disappeared a year earlier on what was supposed to be a routine mission. Izzy is determined to find her, but first she needs to handle a mission of her own: investigating a haunting at a tiny Mississippi high school. Dealing with a murderous ghost should be a cakewalk, but the previously home-schooled Izzy soon discovers that surviving high school means facing plenty of non-supernatural dangers as well.

School Spirits is a brisk, entertaining read, stuffed with Buffy the Vampire Slayer-worthy dialogue and charming minor characters. Izzy is an endearingly awkward heroine, and the author does a wonderful job of setting up a love triangle between her, the cute boy from her P.E. class, and the hot but possibly ill-intentioned wizard her family keeps trapped in a mirror. I was a little hesitant to pick up another of Hawkins's books after Spell Bound (like Suzanne Collins, I no longer trust her to successfully conclude a multi-book series), but School Spirits was enough of a complete story to satisfy, even if the next installment turns out to be a letdown.
No new comments are allowed on this post.