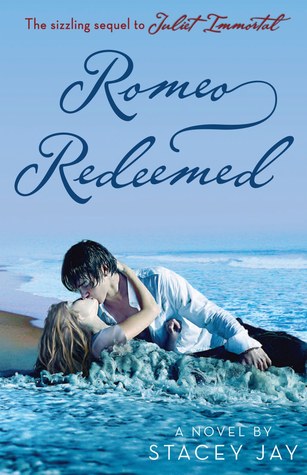 Romeo Redeemed
is the sequel to Stacey Jay's 2011 novel
Juliet Immortal
, and—like its predecessor—is best described as an incoherent mash-up of overwrought teenagers, poorly-explained supernatural hijinks, and Shakespearean-lite fanfiction.
Romeo Redeemed
opens immediately after the events of
Juliet Immortal
, but takes place in an alternate universe. Immortal, body-hopping evildoer Romeo is still trapped inside a rotting corpse, but he is given a chance to redeem himself (and possibly save the world) by traveling back in time and convincing Ariel Dragland—the owner of Juliet's latest host body—to fall in love with him. Unfortunately, Romeo's new host is the same guy who tried to seduce Ariel for a bet, so she isn't exactly in a romantic frame of mind, but Romeo is determined to use every bit of his legendary charm to convince her of the possibility of true love.
Like
Juliet Immortal, Romeo Redeemed
makes absolutely no sense. Jay's mythology is baffling, her characters are totally inconsistent, and her conclusions undermine all the plot development that came before them. If she wasn't stealing her main characters from one of the best-known love stories of all time I'm pretty sure this series wouldn't have been published at all, but as it is there's enough interest generated by her premise—Romeo and Juliet as undying agents of good and evil!—to guarantee her a decently-sized audience. Unfortunately, her actual writing does little to justify it.
Review based on publisher-provided copy.
No new comments are allowed on this post.