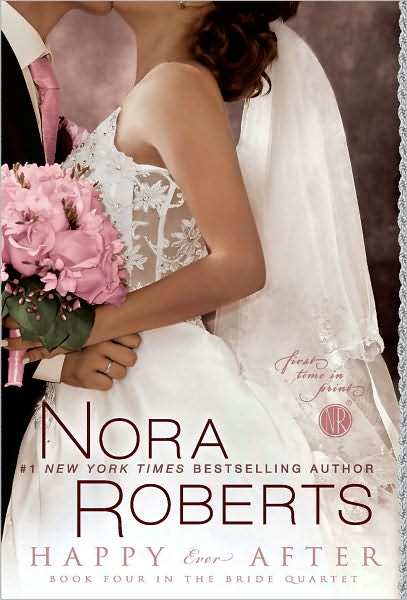 Earlier this month, Nora Roberts released
Happy Ever After
, the final novel in her 'Bride Quartet'. I've grown fonder of this series with each book, so I trotted out to my local bookstore—this time only grumbling a little over the price. At the library a few days later (and clearly still in a wedding-book-friendly frame of mind), I picked up Rebecca Mead's
One Perfect Day: The Selling of the American Wedding
, a nonfiction exploration of the excesses of the American bridal industry. The two made for an interesting compare-and-contrast reading experience, so today I'll be reviewing 'em both. Enjoy!
Nora Roberts'
Happy Ever After
is the final entry in a series about the romantic and work-related adventures of four young women. Mac, Emma, Laurel, and Parker are lifelong friends and the co-owners of Vows, a wedding-planning service.
Vision in White
was Mac's story (the Vows photographer),
Bed of Roses
was Emma's (florist), and
Savor the Moment
was Laurel's (pastry chef).
Happy Ever After
deals with the romance of Parker, Vows' hyper-organized wedding coordinator, and Malcolm Kavanaugh, a local mechanic.
We've frequently written about Roberts' problems creating plausible drama. She has moved steadily away from the
sturm und drang
-filled plot climaxes of her earlier work, but she has yet to find a decent replacement. Instead, her otherwise sane, stable, socially adept characters either tote around a massive emotional hang-up due to a relatively minor cause (like Jack, the love interest in
Bed of Roses
, who never got over his parents' perfectly amicable divorce), or they don't have any significant problems at all, as is the case here. Parker and Malcolm really like each other, and while their path to wedded bliss has some minor hiccups, everything is rapidly and neatly resolved.
While romantic angst might be in short supply, Roberts does a great job of exploring the behind-the-scenes work that goes into creating fairytale weddings. The most memorable moments in the Bride Quartet have always been the scenes where the four heroines work together to soothe hysterical mothers-in-law, oust drunken groomsmen, and break up fistfights between first and second spouses. Unfortunately, these scenes don't carry the weight of real urgency—Vows is already a well-established business, and the four women are more than strong enough to overcome the challenges they encounter. Still, the combination of Parker, Mac, Laurel, and Emma's rock-solid friendship, the low-key but pleasant romantic storylines, and the over-the-top nature of their job makes this series a sunny, stress-free read.
Tune in this afternoon for my thoughts on the Wordcandy Wedding Book Extravaganza Part II: Ms. Mead's One Perfect Day
.
No new comments are allowed on this post.