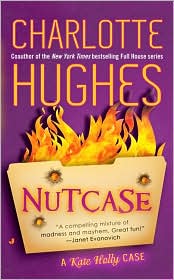 We were pleasantly surprised by
What Looks Like Crazy
, the first book in Charlotte Hughes's Dr. Kate Holly series. Our previous experience with Hughes was limited to the mediocre
Full House
series she co-wrote with
Janet Evanovich
, but
What Looks Like Crazy
showed us that Hughes's solo work had far more charm than we'd given her credit for.
Nutcase
, the sequel to
What Looks Like Crazy
, opens with the after-effects of a bang: psychologist Kate Holly is about to get kicked out of her office, thanks to an unfortunate accident involving a particularly crazy patient and a vial of nitroglycerin. Unfortunately, imminent eviction isn't Kate's only worry. Her clients are clamoring for attention (including a woman claiming to be Marie Osmond), her reconciliation with her ex-husband has hit some major snags, and her dog is depressed. Add a series of suspicious fires, and Kate's thinking of having
herself
committed.
What Looks Like Crazy
's biggest flaw was the yawn-inducing relationship between Kate and her firefighting, too-good-to-be-true ex-husband. Happily,
Nutcase
adds some unexpected roadblocks to their reconciliation, including a pretty new recruit at the fire station and Kate's deepening friendship with a handsome local veterinarian. (Kate is convinced her new friend is gay, but we, as longtime romance readers, are less certain.)
The things we liked best about
What Looks Like Crazy
work even better here. Kate's uneasy relationship with her mother is explored in greater depth, and her troubled clients are unexpectedly three-dimensional (particularly graded on the romantic-comedy bit player curve). Hughes's combination of plausible characters and a genre-hopping focus on work, family, and romance make
Nutcase
a pleasure to read, and leave us enthusiastically looking forward to the next book in this series.
Posted by: Julia, Last edit by: Julianka
No new comments are allowed on this post.