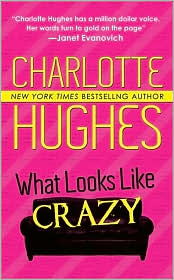 Before reading What Looks Like Crazy, our exposure to Charlotte Hughes's work was limited to the utterly forgettable Full House series she co-wrote with Janet Evanovich. As longtime fans of Ms. Evanovich's solo work, we blamed Full House's mediocrity on Hughes—unfairly, as it turns out. Ms. Hughes's quieter, more mellow style might be a poor match for Evanovich's gleefully manic storytelling, but her solo writing has considerable charm.

Psychologist Kate Holly's life is a mess. She's divorcing her too-perfect-to-be-true firefighter husband, Jay, her ridiculously wealthy best friend has appointed herself the office manager of Kate's practice, and, thanks to a "gift" from her junk-dealing mother and aunt, her ultra-religious neighbors have decided she's displaying pornography in her front yard. Add to that some increasingly creepy crank phone calls, and Kate could use some therapy of her own....

While What Looks Like Crazy will probably get filed under romance, the romantic aspects of the story are the least entertaining. Kate and Jay share an obvious physical attraction, but their relatively calm acceptance of their impending divorce is not exactly the stuff dreams are made of. Hughes doesn't even seem particularly interested in them, illustrating Kate's interactions with her patients, dogs, family, and friends with a much livelier hand. One hopes future installments will allow us to see a deeper attraction between these two characters, because their current relationship lacks compelling drama.

Romance isn't the only thing Hughes's book has to offer, however. Kate makes a likable and plausibly neurotic heroine, her work travails are entertaining, and the book's supporting characters (even the genuinely crazy ones) are quirky and fun, without turning into caricatures. We might not be biting our nails to find out more about Kate's relationship with her ex, but we are eager to hear more about her mother's business, her own struggling practice, and the unofficial nail salon operating out of her kitchen—and, happily, we don't have long to wait, as Nutcase, the sequel to What Looks Like Crazy, is due out in February.

Posted by: Julia, Last edit by: Julianka
No new comments are allowed on this post.