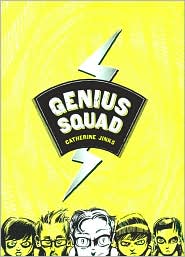 I really enjoyed Catherine Jinks's novel
Evil Genius
, but its little-kid-friendly cover art and gimmicky opening failed to prepare me for the story that followed—it was tough to recover from the shock of finding such hardcore creepiness in a book with a cover that looked like a Saturday morning cartoon.
Genius Squad
, the sequel to
Evil Genius
, is almost as dark as its predecessor, and its cover art is just as cutesy, but at least this time I knew what I was in for.
Genius Squad
opens months after the events of
Evil Genius
: the Axis Institute for World Domination has been blown up; Dr. Phineas Darkkon has died; and Prosper English—child prodigy Cadel Piggott's evil mentor-turned-potential father—is in jail. Cadel has been stuck in an unpleasant foster home, where he's biding his time until he can testify against Prosper.
When Cadel is approached by the head of "Genius Squad", a secret group of technological geniuses working to investigate one of Darkkon's pet projects, he is understandably dubious about the group's plans. Cadel isn't eager to trust another group of adults with questionable motives, but Genius Squad makes him an offer he can't refuse: a safe, comfortable home for himself and his best friend Sonja, who suffers from extreme physical handicaps.
Once again, Jinks takes her story in some
very
unusual directions. As boy heroes go, Cadel is far cry from Harry Potter, or even Artemis Fowl (although his choices are much less disturbing in this novel than they were in the earlier book), and Sonja is even more unconventional. While a budding romance between the two teenage protagonists is a given in most YA novels, Sonja's impairments are severe enough to prohibit any kind of 'normal' romantic relationship. She and Cadel make a devoted and protective pair, but it is nearly impossible to come up with a plausible romantic scenario for them.
Jinks has written an excellent series installment, building upon her previous story's foundation while setting up material for a sequel. (Unlike many middle books, I never felt like I was just clocking time.)
Genius Squad
combines a fast, well-structured plot with outstandingly original characters, and it left me with a even stronger desire to read the
next
book in the series (
The Genius Wars
) than I felt for this one—I loved getting to know these characters better, and I'm eager to find out what happens next.
Posted by: Julia, Last edit by: Julianka
No new comments are allowed on this post.