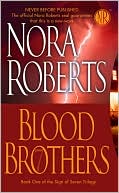 As someone who has never learned to appreciate delayed gratification, I was pretty excited about the one-book-release-per-month schedule Nora Roberts adhered to for her last trilogy, 2006's The Circle. Unfortunately, the quality of the series was not improved by her breakneck writing pace. Ms. Roberts is sticking to a more reasonable one-book-every-six-months timeline for her new Sign of Seven series, and the trilogy's first book is a testament to the value of taking a little extra time and effort: Blood Brothers has more appealing characters, scary moments, and genuine romance than all three of the Circle books put together.

Travel reporter Quinn Black has already written two books about spooky small towns, and she's convinced that Hawkins Hollow is going to provide her with rich material for a third. Something strange and terrible happens to the people of Hawkins Hollow every seven years, for one week in July. It began twenty-one years ago, when three small boys—Cal Hawkins, Fox O'Dell, and Gage Turner—snuck out to the creepy local landmark known as the Pagan Stone and celebrated their tenth birthday by promising to be best friends forever. Their blood pact let something terrible out of the stone... and now it appears to have gathered enough power to destroy the entire town.

Blood Brothers isn't perfect. The boys seem implausibly precocious in the book's early scenes (ten is a little young to be celebrating your birthday with beer, cigarettes, and ceremonial bloodletting), and the dialogue throughout the rest of the story is full of pert, artificially clipped sentences. The plot set-up feels like a mishmash of several Stephen King novels, and the demon-child villain appears to have been stolen directly from a Japanese horror film.

Still, this is Nora Roberts at her entertaining best. Blood Brothers displays her affection for real-world jobs (her hero manages a bowling alley!), her interest in the supernatural, and her first genuinely scary villain. Quinn and Cal make an appealingly offbeat couple: Cal is a conscientious, cautious small-town guy; Quinn is a confident, charmingly brash out-of-towner. Their romance was so much fun that I hate having to wait until May to find out what happens next—but the wait will be worth it if the second book in this trilogy is satisfying as the first.

Posted by: Julia, Last edit by: Julianka
No new comments are allowed on this post.