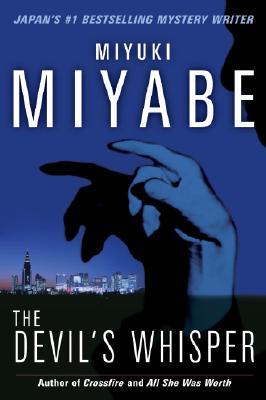 Miyuki Miyabe's deliciously creepy mystery/thriller The Devil's Whisper opens with three young women dying in quick succession: one throws herself off a building, another falls in front of a train, and a third is killed by a late-night taxi. While the police write off the first two deaths as suicides, the taxi driver in the third case is arrested on manslaughter charges, despite his claim that the woman ran out in front of his car. Sixteen-year-old Mamoru Kusaka, the taxi driver's nephew, is convinced that his uncle is telling the truth. Determined to clear his uncle's name, Mamoru launches an amateur investigation into the young woman's past—and uncovers a disturbing link between her and the earlier suicides.

The character development in The Devil's Whisper is first-rate. Mamoru is an appealing, intelligent protagonist, with a mystery in his past that's just as compelling as the story behind the young women's deaths. Unfortunately, The Devil's Whisper also features several far-fetched sci-fi concepts, an underwhelming villain, and a rushed conclusion. Some of the story's nuances were undoubtedly lost in translation, but unless somebody accidentally edited out an entire chapter, there's no denying that the final fifth of Miyabe's book is weak.

Happily, the rest of the book is engrossing enough to make up for it. The Devil's Whisper may not be Miyabe's most impressive novel, but her patented blend of mystery and science fiction is clearly evident, as is her talent for creating complex young protagonists. It's rare for me to recommend a book that opens with a 24-year-old throwing herself off a high-rise, but Miyabe is one of the few writers that suspense fans can consistently trust. The English translations of her novels have all been immensely entertaining, and The Devil's Whisper is no exception.

Posted by: Julia, Last edit by: Julianka
No new comments are allowed on this post.