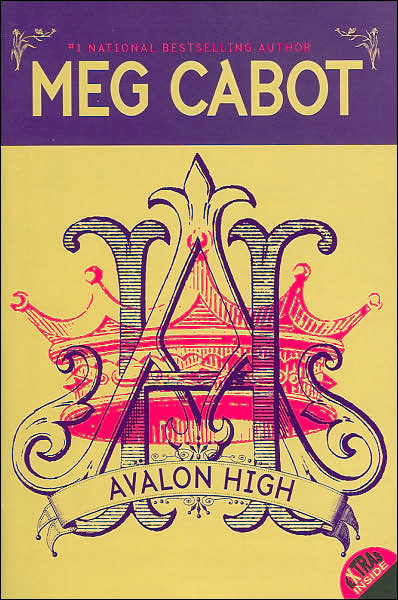 In the past two weeks Meg Cabot has released two brand-new standalone novels: the YA supernatural romance
Avalon High
and the mystery/suspense story
Size 12 Is Not Fat
. Both feature bright, funny heroines, loads of snarky dialogue, and plenty of Cabot's distinctive charm.
A clever play on Arthurian legend (but with a happier ending than the original, thankfully),
Avalon High
is the story of 17-year-old Ellie Harrison, a girl with a previously undiscovered passion for floating around in swimming pools. Ellie has just transferred schools because her parents, both medieval studies professors, are going on a yearlong sabbatical.
"That's the other thing about having professors as parents: They name you after [the work of] totally random authors… such as the Lady of Shallot, aka Lady Elaine, who killed herself because Sir Lancelot liked Queen Guinevere--you know, the one Kiera Knightley played in that King Arthur movie--better than he liked her.

I don't care how beautiful the poem is about her. It's not exactly cool to be named after a girl who killed herself over a guy."
Ellie has always been something of a geek, so she is
very
surprised to find herself immediately interacting with the school's popular crowd, including class president Will, Will's cheerleader girlfriend Jennifer, and handsome (but dim) jock Lance. Ellie's much too sensible to start seeing any weird parallels between high school angst and Arthurian legend, but when she meets Will's freaky stepbrother and discovers that Jennifer and Lance are fooling around behind Will's back, even she begins to wonder….
The heroine of
Size 12 Is Not Fat
is Heather Wells, a washed-up former teen pop singer who has lost her recording contract, her life savings, her boyfriend, and her size 8 figure. Heather's an eternal optimist, though, and she's managed to find a new job working as the assistant manager of a college dormitory. (She's also developed a wicked crush on her landlord, a smokin'-hot private eye… who also happens to be her ex-boyfriend's older brother.) Heather's life seems like it's finally getting back on track--until dead girls start turning up at the bottom of her dormitory's elevator shafts.
Meg Cabot's books have their weaknesses. She seems to be incapable of creating a reasonable secondary love interest, a skill that even the silliest shojo manga artist has honed to a fine art. This is pretty irritating in a story like
Size 12 Is Not Fat
, where the heroine is supposed to have some lingering feelings for her ex. It's difficult to believe that a woman like Heather would give her ex-boyfriend the time of day, much less the kind of attention she gives him over the course of the novel. And while
Avalon High
is cute (and has a better title and cooler cover art than
Size 12 Is Not Fat
), the story is a little slight to justify paying hardback prices. But despite these quibbles, Cabot has an excellent track record as a producer of high-quality Wordcandy, and these titles are no exception.
Posted by: Julia, Last edit by: Julianka
No new comments are allowed on this post.