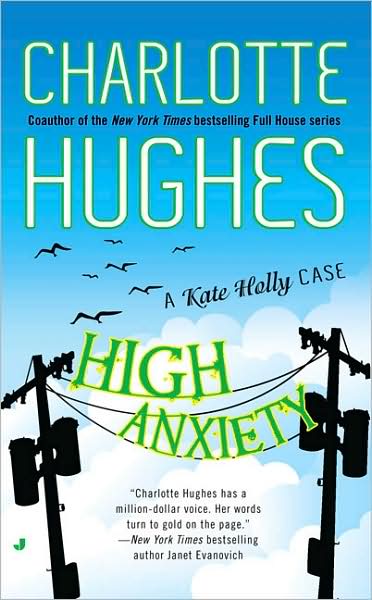 Charlotte Hughes'
High Anxiety
is her third book to feature accident-prone psychologist Kate Holly (following
What Looks Like Crazy
and
Nutcase
). At this point in the series, Kate's life is about as organized as it's likely to get—her practice is steady, her office issues have been resolved, and her on-again/off-again relationship with her firefighter ex-husband has been firmly set to "on". Unfortunately, a night spent filling in for a colleague's anger management group sends everything down the tubes: when a crotchety old lady pulls out a gun, Kate's all-too-brief vacation from mayhem is over.
High Anxiety
does a lot of things very well. While she's not above mining their hijinks for humor, Hughes describes Kate's whacked-out clients with surprising sensitivity, and Kate's relationships with her friends and family (particularly her mother) are handled with intelligence and affection. Unfortunately, things on the romantic front continue to drag. Kate's ex might be the love of her life, but their problems are serious, and he spends most of this book fighting a fire in another state. Their troubled relationship
could
make for a compelling dramatic storyline, but Hughes would be well advised to either move things forward or end 'em fast, because it's tough to remain emotionally invested in an absentee love interest.
Despite kicking off with a scene featuring Kate accidentally shooting a picture of Jesus,
High Anxiety
is the least self-consciously kooky entry in this series, and it's a better book for it. Kate isn't the kind of character who can handle an endless stream of Stephanie Plum-style disasters, and, as she grows from book to book, it's a pleasure to see her begin to address her problems
before
they blow up in her face. Her love life might be spinning its wheels, but the rest of her world is moving forward at an briskly entertaining pace.
[
Review copy provided by author publicist.
]
No new comments are allowed on this post.