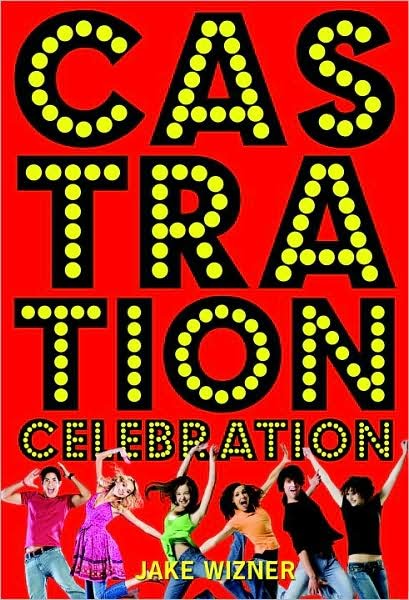 The cover of Jake Wizner's new book looks like the promotional posters for Disney's
High School Musical
. It features about 10,000 hokey musical numbers*, just like
High School Musical
. Its "boy meets girl, hijinks ensue, boy ends up with girl" plotline even plays out like
High School Musical
—but, as you may have picked up from the title, that's pretty much all
Castration Celebration
has in common with the mega-successful Disney franchise.
When Olivia and Max meet cute on the first day of Yale University's summer arts camp, Olivia is quick to shoot down Max's obvious interest. Max might make Olivia laugh, but she's still too angry with her philandering father (and too suspicious of Max's playboy vibe) to even consider dating anyone. She decides to spend the summer working on her musical instead—the gleefully X-rated
Castration Celebration
, a high school love story full of awkwardly-rhyming songs about sex. But as the program goes on, Olivia and Max discover they are, like,
totally perfect
for each other (shocker!), and decide that their respective plans for the summer might require a little rearranging....
For a book featuring a song about the kinkier possibilities of
Edward Cullen and Bella Swann
's sex life,
Castration Celebration
is surprisingly conventional. This is a standard (hell, generic) teen romance about a girl who catches the eye of a popular boy, and whose pretty face and sharp tongue convince him to give up his manwhore ways. The only thing that separates
Castration Celebration
from a
Sweet Valley High
subplot is its relentlessly raunchy dialogue—which is actually the novel's weakest element. Much like the protagonist of Wizner's novel
Spanking Shakespeare
(who has a tiny cameo in this book), nearly all of the dialogue in
Castration Celebration
consists of
American Pie
-by-way-of-Woody Allen witticisms. It's all cute and eyebrow-raising at first, but wading through nearly 300 pages of implausibly articulate banter about sex gets old faster than you'd think.
*Okay, it's more like twelve, but it
felt
like 10,000. Man, I hate musicals.
No new comments are allowed on this post.