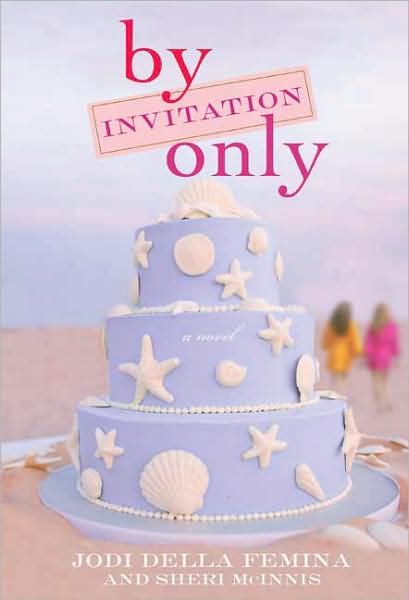 By Invitation Only
is a breezy romantic comedy co-written by Jodi Della Femina and Sheri McInnis, two authors with solid beach-reading street cred: Femina is the author of the bestselling Hamptons guidebook
Jodi's Shortcuts
, while McInnis is the author of a romance novel that appears to
feature Satan* as its male protagonist
.
After a series of romantic and financial setbacks in Manhattan, chef Toni Fratelli decides to move back home and start her own catering company. Luckily for her, "back home" means the Hamptons, one of the most popular vacation spots in the country—but it also means moving back in with her dad, taking over the food planning for her best friend's wedding, and dealing with a nasty, competitive local caterer with a mile-long client list and a coop full of exotic poultry. When Toni meets Chris, a mellow surfer type with a vintage car, he seems like the perfect distraction from her massive To-Do list... but even Chris has a secret, and Toni is about to discover that her life in picture-perfect East Hampton might end up being an even bigger mess than her life in the big city.
While Toni and Chris's romance gets top billing in
By Invitation Only
, the book's supporting characters are far more fun. There's Toni's best friend Layla, a free-spirited Hamptons townie, and Layla's unenthusiastic prospective mother-in-law, a New York socialite with a Botox addiction and money coming out of her ears. Best of all, there's Toni's catering nemesis, a sinister figure who seems to be modeled on
Ina Garten
(well, if Ina Garten was evil). Toni and Chris are likable enough, sure, but their romantic drama is merely a pleasant, fluffy distraction from the
real
meat of this story: the minor characters' sexual, financial, and familial hijinks.
*No, we haven't read it, but you can bet we're going to.
No new comments are allowed on this post.