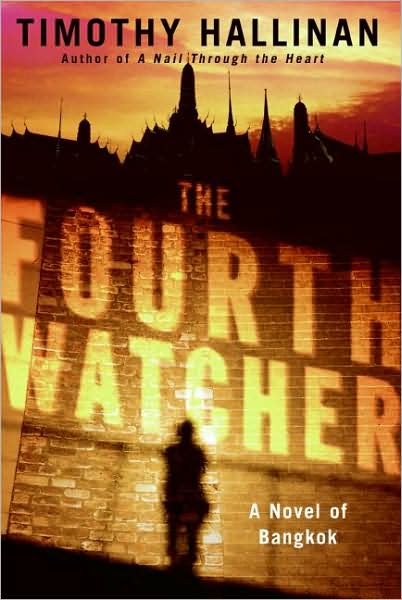 Timothy Hallinan's
The Fourth Watcher
is his second book to feature American travel writer Poke Rafferty. After abandoning his "Looking For Trouble" series of travel books, Rafferty has settled down in Bangkok with his adopted daughter, Miaow, and his fiancée, a former bar girl turned cleaning-business owner named Rose. Unfortunately for Rafferty, he doesn't need to go looking for trouble. Trouble comes looking for him, and it isn't long before Rafferty finds himself embroiled in a case involving counterfeit money from North Korea, Chinese gangsters, a box of rubies, and his long-lost father—who wasn't long-lost
enough
, in Rafferty's opinion.
Despite featuring more unsavory topics than you can shake a stick at, Hallinan's Poke Rafferty mysteries are incredibly readable. Hallinan writes with style and wit, neither romanticizing nor underplaying Bangkok's seedier aspects—the city's corruption, violence, and sex industry play significant roles in
The Fourth Watcher
, but Hallinan does an outstanding job of making his characters feel like real people, not noir stock players. The darkness of his setting might be off-putting to some readers, but Hallinan's rich characters, acerbic humor, and whip-smart dialogue make him a writer to watch.
Click here to read our review of Mr. Hallinan's first Poke Rafferty book
, A Nail Through the Heart.
No new comments are allowed on this post.