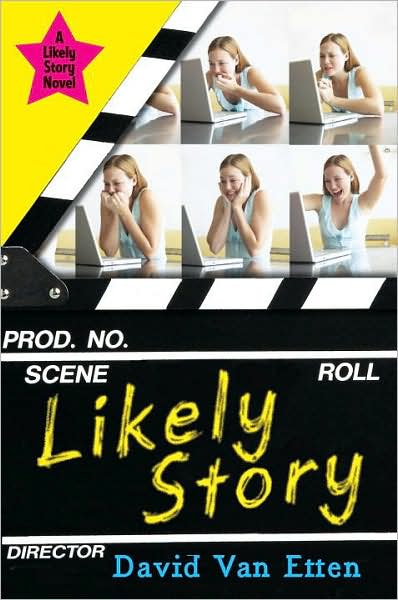 David Van Etten*'s
Likely Story
is the story of Mallory, the teenage daughter of a famous(ly bad) soap opera star. Mallory's mother is the ultimate drama queen, but her daughter's talents lie in another direction: Mallory dreams of writing a soap opera about real people and real problems, with absolutely
no
kidnappings, plane crashes, or clairvoyants allowed. When her mother's agent unexpectedly embraces her idea, Mallory's life turns into a sticky mess of hurt feelings, deflated hopes, and screwed-up relationships—a real-life melodrama of her very own.
Likely Story
is witty, clever, and stylish, with a lot of delicious soap opera in-jokes. Here's Mallory's description of the trials and travails of her mother's onscreen daughter:
"In the past sixteen years, Diamond has been abducted six times, has died once, has fallen in love twice with people who were later revealed to be her relatives, has had three bouts of amnesia, has been in a coma twice, has eloped once, has broken off two engagements, has had her debutante debut ruined once by an earthquake and once by a dead best friend, has twice fallen into the hands of a coven of witches, has been locked in the trunk of a car six times, has pulled a gun on someone fourteen times, has had a gun pulled on her twenty-two times, and has had near-death experiences eight times (twice from drowning, twice in a car crash, once in a plane crash, once after being stabbed by her lover-slash-long-lost-stepbrother, once in childbirth, and once—I swear to god—from slipping on a patch of black ice, which was later revealed to have been put there by her diabolically scheming half-sister/stepmother.)"
Unfortunately, much like the soap operas it parodies,
Likely Story
is also totally unsatisfying. It's too short (a mere 230 pages), none of the half-dozen storylines are resolved, and the story is cut off with a pearl-clutching cliffhanger. There will be a sequel out in October, but teen readers might well object to having to buy
two
$16 hardbacks in order to read
one
complete story, even when the books are as sharply funny as this one. If this book had been more affordable, we would have recommended it as a smart and enjoyably nasty alternative to cheeseball teen series like the
Sweet Valley High
reprints... but as it is, we suggest waiting until the paperback edition comes out.
*"David Van Etten" is the pen name for three authors: YA author David Leviathan, playwright David Ozanich, and soap opera writer Chris Van Etten.
No new comments are allowed on this post.