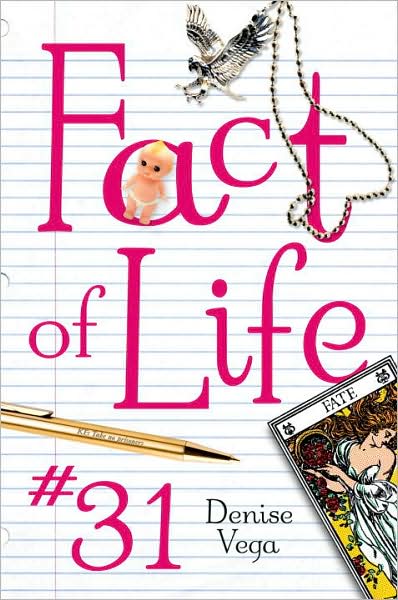 High-school junior Kat Flynn loves her after-school job, even if it is a little unconventional. She works at her mother's midwife birthing center, intermixing secretarial work with helping prospective parents design song lists and mood lighting for their children's births. The only problem with working at Abra's Midwifery is the boss: Kat's earth-goddess-y mother Abra is beloved by her patients, but she has a bad habit of relying on meaningless platitudes to talk to her daughters. Kat's crush on a schoolmate, tentative friendship with the most popular girl in school, and uneasy relationship with her mother guarantee that life isn't easy, but she's determined to find her own path.

Denise Vega's Fact of Life #31 is arranged by pregnancy trimester, a less-than-subtle metaphor for Kat's personal growth. Unlike many young adult heroines, Kat is restrained, easy-going, and well-behaved--maturity, for her, means growing more emotional and noisy as the book goes on, rather than less. (To put it in terms an Austen fan would understand, she has to set aside her inner Elinor and embrace her inner Marianne.) There are tons of coming-of-age novels out there featuring young women with wacky parents and quirky home lives, but Kat's quiet self-confidence makes her a genuinely unconventional and appealing heroine. Fact of Life #31 was delightful, and we look forward to seeing more of Ms. Vega's work!
No new comments are allowed on this post.