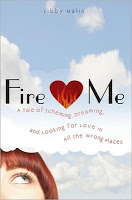 Libby Malin's new novel Fire Me takes a series of girl-book clichés (a self-effacing heroine, an overbearing family, a vaguely defined job) and combines them with the workplace hijinks of Office Space. The result is flawed, but offers plenty of snicker-inducing moments.

As the novel opens, P.R. specialist Anne Wyatt has just accepted a new job across the country, far from her overbearing, manipulative employer, with whom she once had a brief affair. She's ready to resign, but when her boss announces a plan to reduce staff, she decides to get fired instead, thereby benefiting from her job's generous severance package. Her plan leads to some impressively bad behavior—but when a co-worker kicks off a similar campaign, Anne discovers she's up against some very creative competition for the "Most Undesirable Employee" position.

Fire Me has all the right ingredients for an over-the-top romantic comedy, but in the wrong proportions. The novel takes place over one day, and way too much plot is crammed into too short a time frame. Anne's romance with a coworker doesn't get enough screen time to be plausible and her budding friendship with her fellow employee-from-hell is underdeveloped. (If Malin was looking to save pages, Anne's affair with her boss could have been cut entirely. It doesn't add much to the story and it portrays Anne in an unsympathetic light—something readers aren't given time to get past.) I spent plenty of time giggling over Fire Me, and I'm planning on checking out Malin's other books, but here's hoping the rest of her work moves at a more natural pace.
No new comments are allowed on this post.