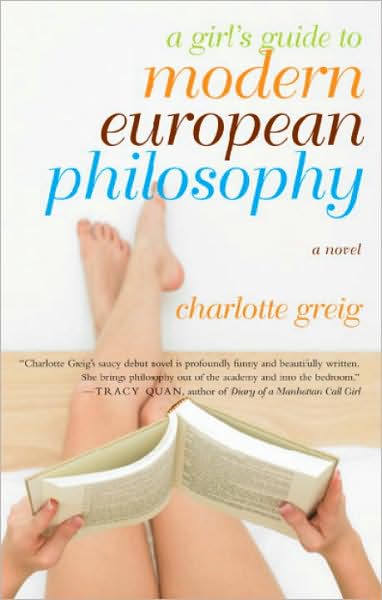 Charlotte Greig's thoughtful, beautifully-written debut novel A Girl's Guide to Modern European Philosophy hovers somewhere between the general fiction and YA shelves: the story's heroine is very—sometimes painfully—young, but the book features several issues usually segregated into the "books for grownups" section.

A Girl's Guide is set at Sussex University in the mid-seventies, but the plot and its heroine are timeless. (Actually, apart from some music and television references, very little defined this book as a period piece. I assure you: marijuana, alcohol, flared pants, and stupid decisions are still visible in modern colleges.) Greig's heroine is Susannah, a second-year philosophy student with an unpleasant, much-older boyfriend, Jason. Susannah knows she and Jason are going nowhere, but rather than leaving him (and his nicer-than-student-housing apartment), she drifts into an affair with her equally unsuitable tutorial partner. Dating two men—neither one of whom she actually likes—gets even messier when Susannah discovers she's pregnant, and is finally forced to make some concrete decisions about her future.

Susannah is an extraordinarily plausible creation—a perfect blend of intelligence and the passivity, self-absorption, and extreme idiocy of youth. She spends the novel stumbling from one mistake the next, all the while searching for wisdom in the words of everyone from Søren Kierkegaard to Nietzsche to David Carradine in Kung Fu. I spent most of the story longing to kick some sense into her... but that's actually a testament to Ms. Greig's character development skills, because that's generally how I feel about real college-age philosophy students, too.

Happily, this is one of the rare coming-of-age novels where the main character actually grows up. By the end of the novel, Susannah finally commits herself to a course of action, and, whether or not you agree with her, her willingness to make a decision and live with the consequences is a hopeful sign of her deepening maturity. I'm not sure if readers in their late teens and early twenties would be able to appreciate this character—she might hit too close to home—but those of us who have left our college years safely behind us will find a tremendous amount to enjoy.
No new comments are allowed on this post.