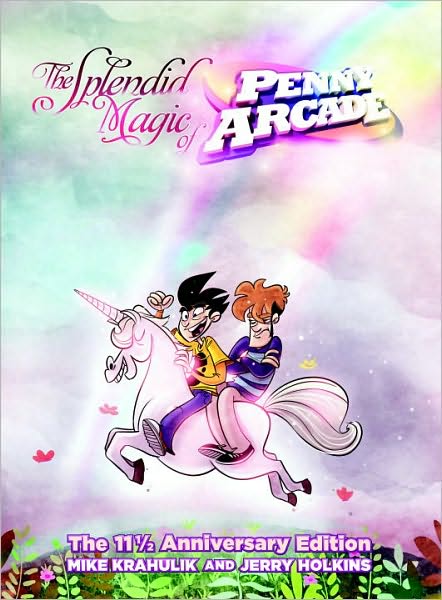 Penny Arcade
is a great comic strip. I've laughed at the punchlines, I give series creators Mike Krahulik and Jerry Holkins major props for their charitable endeavors, and I'm told their PAX shindig is a lot of fun...
...but I'm still not sold on the notion that publishing a 163-page-long love letter to themselves—and make no mistake, that is
exactly
what
The Splendid Magic of Penny Arcade
is—was the best idea ever.
Written by Holkins and illustrated by Krahulik,
Penny Arcade
is one of the most successful and longest-running webcomics. The series has been offering a cheerfully twisted take on video gaming and nerd culture since 1998, and it's wonderful—always funny, frequently profane, and occasionally sweet. More recently, Holkins and Krahulik have expanded their efforts to include
Child's Play
, a massive charitable toy drive to benefit hospitalized children, and the
Penny Arcade Expo
(PAX), a popular gaming festival.
So far, so good, right? But look, dudes: a little self-congratulation goes a long way. Your title, for example, made me snicker. The worshipful creator profiles featured in the tongue-in-cheek (I hope, anyway) "Penny Arcade: A History" section ran long, but were mildly amusing. The Q & A session—nineteen pages, fifty-five questions—should have been edited down to, like, two pages and less than fifteen questions. I'm sorry, but no one cares about your shared love of
Falling Down
.
But at the end of the day, did you really need to charge your fans
twenty-four dollars
to read a smug testament to your own awesomeness? Let the charm of your work speak for itself—unlike this book, it's actually worth hearing.
Review based on publisher-provided copy.
No new comments are allowed on this post.