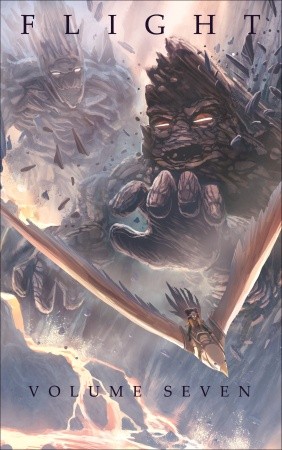 The seventh volume of Flight is another solid installment in Villard Books' series of lavishly illustrated graphic novel anthologies. These sixteen short stories—edited by contributor and art director Kazu Kibuishi—feature a variety of genres and artistic styles, but one thing remains consistent: the authors' commitment to creating the most sumptuous, richly imagined visual worlds possible.

Flight is expensive, it includes a disproportionate number of male contributors, and some of its stories work better than others. The artwork in Kostas Kiriakakis's Premium Cargo is exquisite, but the story is schmaltzy rather than genuinely affecting, and Bannister and Grimaldi's Career Day is too much of a one-note joke to merit 12 pages. Still, the joys of this series far outweigh its disappointments. Katie and Steven Shanahan's goofy Fairy Market, Kean Soo's sweet-natured Jellaby: Guardian Angel, and Cory Godbey's mythology-inspired Onere and Piccola are all outstanding, boasting memorable storytelling and dazzling imagery. In fact, I would have preferred it if Villard Books had actually charged a little more for Flight* and released the series in hardcover. Imagine what an awesome coffee table book it would make: delightful to flip through, but sufficiently entertaining to actually read.

*I know. I can't believe I wrote that, either.

Review based on publisher-provided copy.
No new comments are allowed on this post.