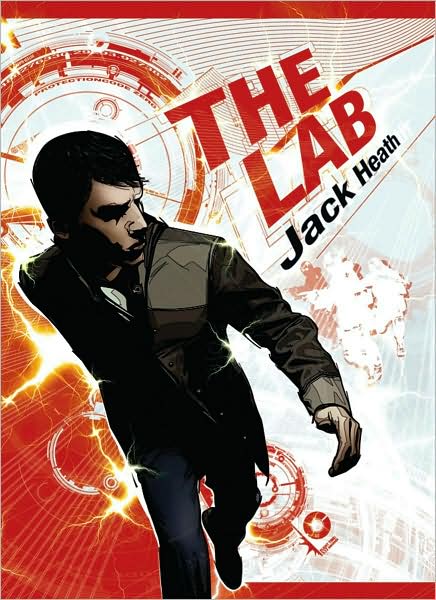 In his bio on the back flap of The Lab, first-time Australian author Jack Heath mentions his love of Milla Jovovich films. Trust me, this little tidbit was unnecessary—anybody's who has ever seen a Resident Evil movie (or even the dread Ultraviolet) is guaranteed to make the connection.

The Lab is set in a nameless dystopian city, where a vigilante group called the Deck is the only thing standing between the ChaoSonic Corporation and complete control. Agent Six of Hearts is the Deck's secret weapon: a sixteen-year-old operative with a nearly supernatural ability to fight and strategize. Six of Hearts would take on anyone to protect the Deck's interests, but he's hiding a secret of his own. He was born in one of ChaoSonic's labs, and his amazing abilities are the result of extensive genetic modification. If Six's past is uncovered, his life is over. His handlers won't protect him, and ChaoSonic would love to get reacquainted with their lost creation.

Heath wrote this novel in high school, but it passes my "abnormally young writer" test: I'm pretty sure it would have been published even if he'd been 45. The author handles his setting beautifully (his grotesque description of genetically modified chickens is worth the cover price by itself), and the book's many action sequences are fast-paced and consistently entertaining. Unfortunately, The Lab features too little character development and no romantic plot line. I understand that young Mr. Heath might have been uncomfortable creating a love interest, and I'm not saying he needed to turn his action/sci-fi story into Wuthering Heights, but there weren't even any romantic prospects in the book*. The paper-thin characters and lack of romance weren't enough to turn me off this novel completely, but they definitely reinforced my sense that I was reading an unusually well-written video game novelization.

*There aren't that many characters to begin with, and Six is related—sort of—to nearly all of the age-appropriate ones.
No new comments are allowed on this post.