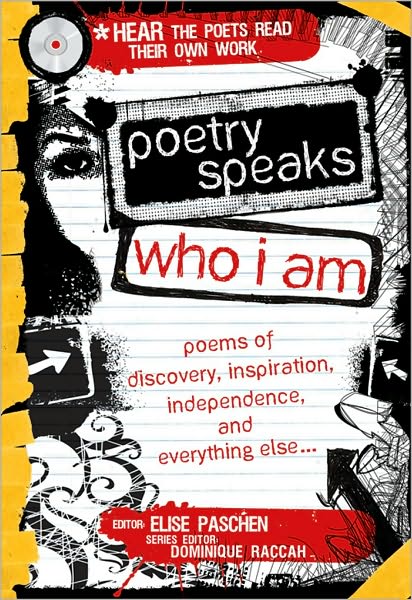 Poetry Speaks Who I Am
is the latest anthology to come from Sourcebooks'
Poetry Speaks
line, and the first—perhaps only?—poetry collection aimed specifically at middle-school-age readers. This book features more than 100 poems, including both classic works (from Walt Whitman, Christina Rossetti, etc.) and modern poetry written by authors representing both genders and a rainbow of cultural perspectives. The book includes a 47-track audio CD featuring many of the poets reading their own work.
This is the kind of project that fills our hearts with happiness, because over the past five years we've met several kids who seriously had
no idea
that poetry was still being written.
Poetry Speaks Who I Am
is the ideal collection to prove to young readers that while poems like Edgar Allan Poe's "Annabel Lee" are called classics for good reason, modern poetry—like Parneshia Jones's outstanding "Bra Shopping"—can be funny, evocative, and powerful. There were one or two inexplicable omissions (no E.E. Cummings, and they left out my favorite youth-themed poem of all time, Simon Armitage's "
I Am Very Bothered
"), but
Poetry Speaks Who I Am
is still totally awesome, and a must-buy for any middle or high school library.
[
Review based on publisher-provided copy.
]
No new comments are allowed on this post.