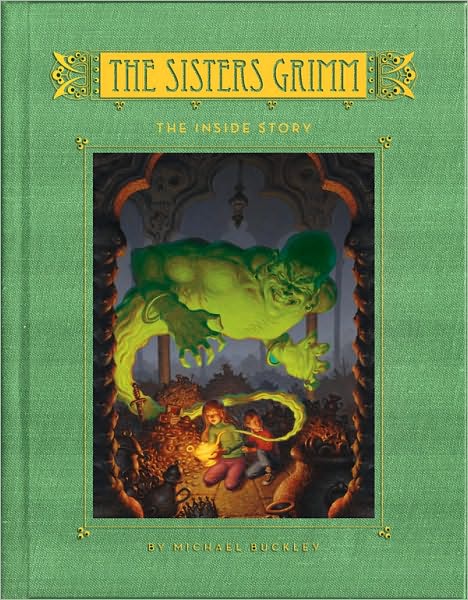 Once again, Michael Buckley's newest
Sisters Grimm
book is scheduled to go on sale May 1st, and once again, it was widely available by mid-April. I asked about this (again), and the bookseller told me (again) that it wasn't
actually
out, but he was okay to sell it.
Yeah, I don't get it either. But the point of this story is: don't buy this sucker online, because you can get it weeks earlier in brick-and-mortar stores.
The Inside Story
picks up immediately after the final scene of
The Everafter War
. Sabrina, Daphne, and Puck are stuck in the "Book of Everafter", where they're forced to chase the Master through a series of stories peopled by Everafter characters anxious to change their destinies. (Spending eternity getting your house blown down by a wolf or having water thrown on you by a snot-nosed kid from Kansas gets old.) Unfortunately, every alteration they make further angers the Editor, the guardian of the Book, whose army of Revisers eats anyone who screws with the established order....
The Sisters Grimm: The Inside Story
features plenty of action and humor, along with a healthy dollop of Puck/Sabrina romance. There wasn't much concrete plot development (Daphne and Sabrina's parents are barely present, for example), and the climactic battle scene was cluttered and hard to follow. However, we don't love these books for their action sequences; we love 'em for their charm and humor and squee-inducing Puck and Sabrina spats, and this installment delivered those in spades.
We noticed that the final line of
The Inside Story
was "To Be Concluded...", which seems to indicate that the ninth book will be the end of this series—sad news, as we were hoping for a tenth. (Well, *I* was hoping for a tenth. Meg wants to read about Puck and Sabrina's dating adventures straight through high school. And maybe beyond.) Still,
The Sisters Grimm
has had a great run, and I'll be haunting bookstores starting in mid-April next year, looking for Buckley's next May 1st release.
No new comments are allowed on this post.