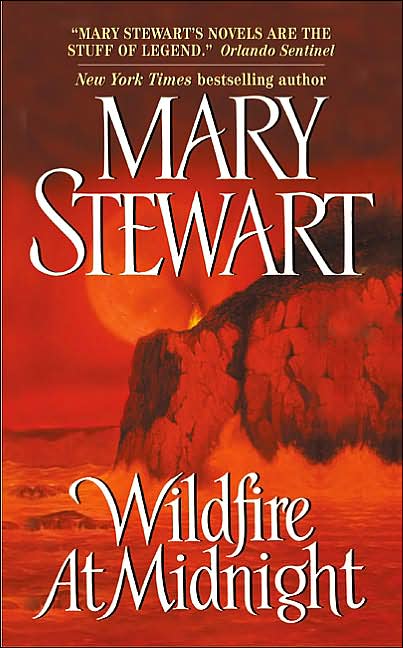 Mary Stewart is one of those authors whose best work (the truly awesome 1958 novel
Nine Coaches Waiting
) was so good that everything else she produced pales in comparison. (See also:
Herbert, Frank
.) But that doesn't mean that her other books weren't enjoyable—many of them were tremendous fun, in a divorced-from-reality-and-not-particularly-politically-correct kind of way.
Originally published in 1956,
Wildfire at Midnight
is a perfect example of Stewart's B-grade work. Her heroine is Gianetta Drury, a self-possessed, melancholy young woman visiting a remote hotel on Scotland's Isle of Skye. Gianetta is appalled to discover that the hotel's guest list includes her ex-husband—a "dark, damn-your-eyes" writer named Nicholas Drury—and the glamorous actress who seems to be his latest paramour, but her heartache fades into the background when she discovers that the surrounding mountains have recently become the setting for a series of bizarre, ritualistic murders.
Stewart clearly hoped
Wildfire at Midnight
would be a triple threat: equal parts romance, mystery and suspense. Sadly, the romantic storyline didn't work for us (we don't find smug, self-satisfied writers who can't keep their pants zipped attractive, no matter how elegantly broody they are), but the suspense and mystery bits were far more successful. The
dramatis personæ
is packed with likely-looking suspects, and the action builds steadily towards a climactic chase scene across a mist-shrouded mountainside.
Wildfire at Midnight
isn't even half as good as
Nine Coaches Waiting
, but if you're looking for a well-written thriller with a vintage vibe, it stands up just fine against the lesser works—and even some of the middling works—of authors like Agatha Christie or Margery Allingham.
No new comments are allowed on this post.