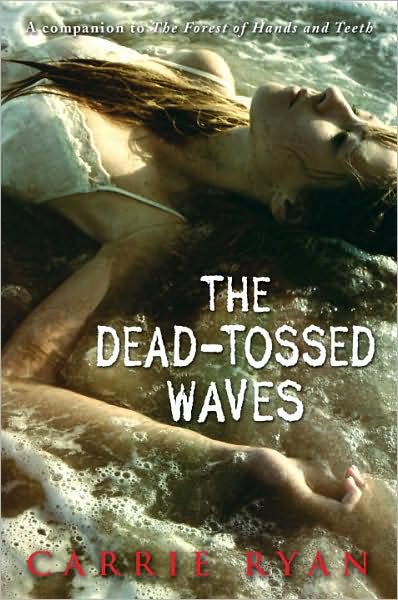 The Dead-Tossed Waves
is the sequel to Carrie Ryan's 2009 novel
The Forest of Hands and Teeth
, and it's just as cheery as its predecessor—which is to say, not even remotely. Ryan's second book features many of the same plot elements as her first: a tortured and slightly implausible love triangle, a perilous quest, and zombies.
Lots
of zombies.
While
The Forest of Hands and Teeth
focused on Mary, a teenage girl from an isolated village dominated by a religious order and surrounded by zombies, its sequel features Mary's daughter, sixteen-year-old Gabrielle. Gabrielle has been raised in the well-protected oceanside town of Vista, living with Mary in the local lighthouse. But when a night of teenage rebellion leaves most of her friends either dead or imprisoned, Gabry is forced to leave the safety of the town behind and venture into the same zombie-infested forest that nearly killed her mother.
Ordinarily, we would be critical of a second series installment that so closely mirrored the first, but the familiarity of Ryan's plotline is offset by several fun new additions to her post-apocalyptic world, including a ruthless militia organization, a handful of people that seem immune to the zombies' bite, and—our personal favorite—a group of zombie-worshiping cultists who march around pulling de-jawed zombies on leashes. (That's an image that's really going to stick, you know?) And while the ending of
The Dead-Tossed Waves
is a smidge more optimistic than then ending of
The Forest of Hands and Teeth
, it left us just as eager for a sequel. Sooner or later—we hope, anyway—Ryan is bound to give at least
one
of her characters an uncomplicated happily-ever-after*, and we want to be there to see it.
*It doesn't even have to be a central character. We're not picky.
[
Review based on publisher-provided copy.
]
No new comments are allowed on this post.