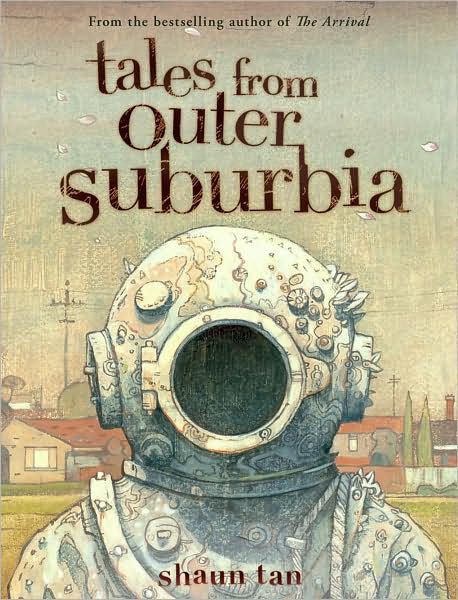 It's difficult to maintain an genuinely dreamlike atmosphere over 90+ pages, but Australian graphic novelist Shaun Tan's Tales from Outer Suburbia manages it... or very nearly. One or two of his short stories about life in a Bizarro-world suburb slide dangerously close to "message" territory, but the lion's share of this collection comes across as authentically weird—a rare beast in a medium big on manufactured quirkiness.

The best stories in Tales of Outer Suburbia offer a magical realism take on ordinary suburban experiences, including sibling squabbles ("Our Expedition"), awkward but extremely polite foreign exchange students ("Eric"), and the difficult settling-in period experienced by new immigrants ("No Other Country"). Some of the more obscure stories ("Stick Figures", "The Water Buffalo") left me cold, but Tan's gorgeous mixed-media artwork made even the weakest entries in the collection a pleasure to experience.

Tan won several well-deserved awards for his first graphic novel, the wordless 2007 bestseller The Arrival, and Tales from Outer Suburbia doesn't disappoint. This stories in this collection might be uneven, but Tan's delicate, haunting artwork and engaging storytelling make him a talent to watch.
No new comments are allowed on this post.