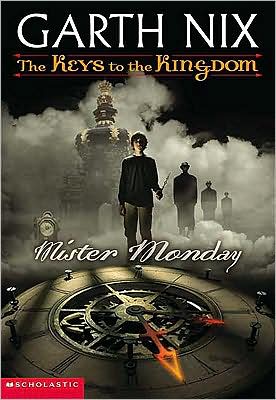 As I went through the Wordcandy mail a few weeks ago, I was pleased to run across a package from Scholastic containing not only the final book in Garth Nix's
Keys to the Kingdom
series, but also the first. We're always happy to receive new series... but not having to hunt down every previous installment makes us even happier.
The Keys to the Kingdom
kicked off in 2003, when Nix's
Mister Monday
introduced Arthur Penhaligon, the seventh-grade boy destined to save the world. Arthur—the youngest and only adopted child of a large family—is severely asthmatic, and an attack that should have killed him brings him to the notice of Mister Monday, one of the seven supernatural beings who have usurped control of the House at the center of the universe. Arthur finds himself in possession of half of Monday's key, and discovers that he'll have to steal the other half if he wants to undo the damage that Monday's visit has caused.
Nix makes it clear from the get-go that
Mister Monday
is straight-up fantasy, not a fun, winking take on the genre à la Rick Riordan's
Percy Jackson
series or Michael Buckley's
Sisters Grimm
books. The novel borrows heavily from the Bible and classic mythology, with bits of Arthurian legend and poetry thrown in. I usually prefer my fantasy leavened with some humor, but there's something admirable about Nix's approach—if nothing else, he obviously believes young readers are capable of appreciating a story even if it hasn't been gussied up with vampire love triangles or toilet humor or whatever. Not all YA authors can say the same.
I'll report back when I get around to the final book in this series—the just-released
Lord Sunday
—with a more comprehensive review. (Books two through six are on hold at my local library.)
Mister Monday
wasn't my usual cup of tea, but reading a book trying to sell itself on substance rather than style made for an pleasant change of pace.
[
Review based on publisher-provided copy.
]
No new comments are allowed on this post.