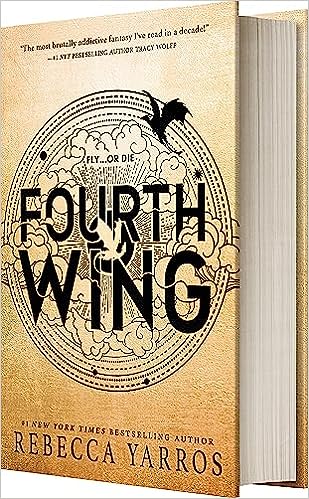 Rebecca Yarros's Fourth Wing is the literary equivalent of an ice cream sundae. It might not be the most avant-garde idea out there, but it's packed with stuff people really like: dragons, a magical school, loads of violence, and some New Adult-level sex and pining. In the hands of a less competent author, this might read like a derivative mess, but Yarros's hell-for-leather pacing and solid characterization keeps the pages turning. I picked this book up around 10:30 in the evening and didn't put it down until I'd finished it four hours later, never noticing the time passing.

The story centers around 20-year-old Violet Sorrengail. While Violet has always intended to become a Scribe, her mother, a prominent military general, has suddenly insisted that she attempt to join the Riders Quadrant—the training academy for would-be dragon riders. Unfortunately for Violet, who is small and physically fragile, even joining the academy is tantamount to a death sentence. There are far more riders than there are dragons, so competition is literally cutthroat, and the school shrugs off student-on-student murder. But what Violet lacks in strength, she makes up for in craftiness and a dogged determination to Not Die.

Is Fourth Wing formulaic as hell? Sure, but there's nothing wrong with a well-executed formula, and this one is top-notch. In fact, I have a friend who is currently enduring a lot of simultaneously boring-yet-stressful medical appointments, and I'm mailing her a copy of this novel ASAP. The fantasy world might be full of more weird and wondrous plot ideas, but right now my friend doesn't need to have her mind blown by an author's dazzling creativity. She's in the market for a story that will take her mind off things, and you couldn't ask for a more effective distraction than this violent, sexy, action-packed novel.
Your Comments
Preview