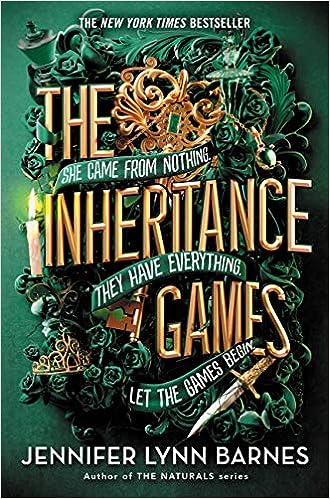 We were huge fans of Jennifer Lynn Barnes's series The Naturals (with the exception of the last book, which was a bit of a letdown), so we had high hopes for her most recent suspense/mystery effort: The Inheritance Games, the first book in a trilogy of the same name. And while we can't say we found it as immediately engaging as The Naturals, this new series is off to a promising start.

Avery Grambs wants nothing more than to graduate high school, land a decent college scholarship, and figure out a way to achieve the middle-class stability she has never experienced. But her life changes in an instant when she is informed that billionaire Tobias Hawthorne—a man she has never met—has died and inexplicably left her the vast majority of his fortune. To inherit, she is legally required to move into Hawthorne House: a mansion filled with secrets, puzzles... and the very angry Hawthorne family, who have just been disinherited in favor of a strange teenage girl.

This is the kind of high-concept story that requires the reader to suspend a ton of disbelief. I'm normally pretty good at that, and even I had my moments of: "Uh... sure." There's a lengthy section of the novel where Avery is trying to figure out what became of another girl who had once been close to the Hawthorne family. Nancy Drew would be jealous of her sleuthing ability and determination—except for the fact that it never seems to occur to her to simply ask her head of security, who was well-acquainted with everyone involved. But if you're willing and able to accept Barnes's far-fetched premise (as well as a lot of far-fetched characterization, scheming, and plot resolution), The Inheritance Games is a fun YA nod to puzzle-box stories like The Westing Game or Knives Out, perfect for whiling away a late summer afternoon.
Your Comments
Preview