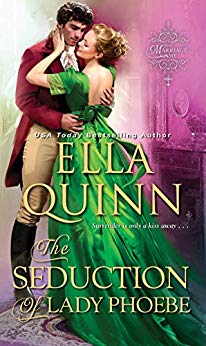 On the back cover of Ella Quinn's novel The Seduction of Lady Phoebe, there's a glowing promotional blurb by novelist Grace Burrowes: "Lady Phoebe is a heroine Georgette Heyer would adore—plucky, pretty, and well worth the devotion of the dashing Lord Marcus. A marvelous find for Regency romance readers." Burrowes is lucky there's no such thing as a Better Business Bureau for romance novel promo quotes, because that comment is a pack of liiiiiies.

At fifteen and twenty, respectively, Lady Phoebe and Lord Marcus had a short, mutual infatuation that ended abruptly when Marcus drunkenly attempted to compromise her. Lady Phoebe responded to his "seduction" with a punch to the nose, but the memory of his assault still inspires fear and anger, even years later. When Marcus returns to England after nearly a decade away, Phoebe doesn't recognize him, so Marcus decides to use this fresh start to reclaim her affections.

I usually try to find something redeemable about a book, but The Seduction of Lady Phoebe is straight-up terrible. I could ignore the needlessly fussy writing style. I could overlook the many editorial mistakes. But there is zero freaking plot! It's impossible to care about Marcus's redemption, because his character growth happens both instantly and off-screen. (On page 5, he's a drunken sleaze. By page 7, BOOM: he's the perfect man.) It's equally impossible to care about Phoebe's forgiveness, because while she frequently mentions her insurmountable anger, it doesn't stop or even significantly hinder the breakneck pace of her relationship. There's so little interpersonal conflict in this story that the author eventually trots out an external villain, just to give her characters something to do... and that plot development is incredibly dumb, too.

I'm told this was Ms. Quinn's first novel, and she has since become a best-selling author. Hopefully her more recent efforts are better, but I have no intention of reading them to find out. Save yourselves, dear readers: skip this book, and take any of Grace Burrowes's future recommendations with a boulder of salt.
No new comments are allowed on this post.