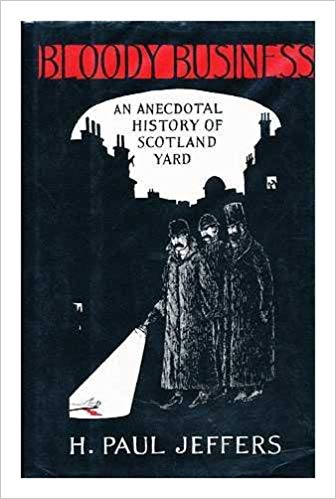 I purchased my copy of H. Paul Jeffers's Bloody Business: An Anecdotal History of Scotland Yard solely because of its Edward Gorey-illustrated cover art. True crime is not my preferred style of nonfiction, but I started flipping through the book one evening and found myself unexpectedly absorbed—for a small island, Britain has seen a lot of famous evildoing.

In Bloody Business, Jeffers briskly sets out a birds-eye view of the development of Scotland Yard, tying major events in the organization's history to various infamous crimes. A 17th century bounty system leads to the rise and fall of Jonathan Wild; advances in communication technology allows detectives to capture a murderer who has fled (extremely slowly) to New York; the development of forensics opens a whole new world of previously undetectable poisons and fingerprints. There are a handful of dry, purely informative sections, but Jeffers offsets them with plenty of lurid criminality, and the end result is tremendously absorbing (albeit frequently super gross.)

Even if you're not a true crime buff, this book has something to offer. I was reminded of how many English novelists—including Wilkie Collins, Charles Dickens, Arthur Conan Doyle, Agatha Christie, and John Le Carre—were clearly inspired by real-life cases handled by Scotland Yard. Once again, I am indebted to my beloved Edward Gorey: collecting his artwork has exposed me to all kinds of engrossing books that I never would have opened otherwise.
No new comments are allowed on this post.