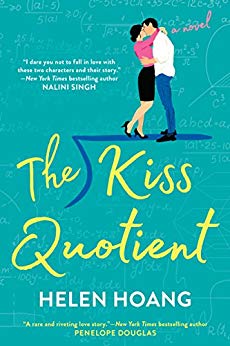 As I mentioned a few weeks ago, I
really liked
Helen Hoang's romance novel
The Bride Test
, but I watched it under the influence of two truly terrible Chinese dramas, which I suspected might have skewed my enthusiasm. In an effort to clarify my opinion (and read anther unconventional romance novel) I picked up her first book,
The Kiss Quotient.
The Kiss Quotient
has quite the elevator pitch: a wealthy young woman with autism decides to improve her relationship skills by hiring an escort to teach her about sex and intimacy. The escort in question is using his staggering good looks and sexual charisma to cover his mother's hospital bills. They're attracted to one another, but both characters are carrying around personalized mountains of self-doubt, guilt, and fear.
Hoang's books are a lot like her characters—smart and good-hearted, but genuinely odd. In most romance novels, the story starts off with a distinct power imbalance. Over the course of the book, one character (usually the guy) slowly surrenders power to the other, and by the end of the story they've either achieved parity or the hero has fully "surrendered" to his love for the heroine.
The Kiss Quotient
doesn't hit any of those beats. Hoang's characters are genuinely burdened. Her heroine's autism is ever-present and socially limiting, and never played for laughs. Her hero is an unhappy mix of self-doubt and pride, unwilling to accept help but determined to offer it. Their pairing actually feels a lot healthier and more realistic than many fictional relationships, but lacks the wish-fulfillment element found in most romance writing. Still, I found myself sincerely invested in both characters, and grateful that Hoang is one of the few authors out there doing her bit to increase diversity in romance writing.
No new comments are allowed on this post.