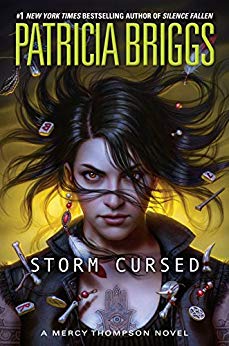 Patricia Briggs is one of the most reliable fantasy writers on my mental list of books to take on a plane. She's less pretentious than
Seanan McGuire
,
way
less gross than
Laurell K. Hamilton
, and better at romance than
Charlaine Harris
. I don't rush out to buy her books (unless I'm heading out on the aforementioned flight), but I'm always very pleased to read one when it comes my way.
Storm Cursed
, the most recent book in Briggs's bestselling Mercy Thompson series, opens with a series of messes Mercy (shapeshifter, mechanic, member of the Columbia Basin werewolf pack) needs to clean up. Since assuming responsibility for the entire region, human and supernatural alike, Mercy's various jobs have expanded to include everything from event planning the upcoming human/Fae summit to hunting down a rogue goblin. And when a pair of murderous witches start causing trouble, Mercy and her pack are first in line to deal with them.
This book was just as entertaining as its predecessors, but I sincerely wish Briggs would stop announcing her characters' political affiliations. I appreciate that she avoids describing Mercy's clothes or home in great detail, but all of that grade-A timeless vagueness is wiped out in a with a record-scratch noise when she labels someone as a Republican or Democrat. (I don't read urban fantasy novels because I enjoy thoughts like: "I wonder how Mercy will defeat the zombified miniature goats... and would her husband be a Trump voter?")
Storm Cursed
is an engrossing read, full of detailed world-building and lively, endearing, ass-kicking characters, and it deserves a reading experience that isn't weighed down with real-world political baggage.
No new comments are allowed on this post.