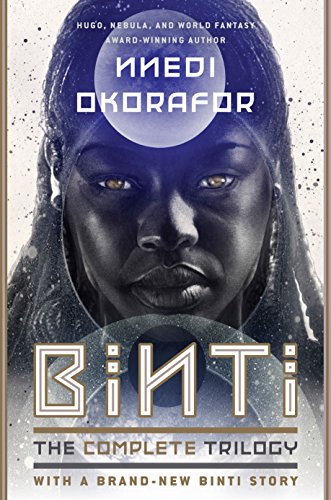 If the plot of Nnedi Okorafor's Binti was as impressive as her world-building and character design, her book would be an instant sci-fi classic. Sadly, the plot is by far the weakest element of this story—although Okorafor has clearly established herself as an author to watch.

The titular heroine of Binti is a young Himba woman whose gift for mathematics has earned her a spot at a prestigious off-world university. Despite her family's objections, Binti is determined to attend, and sets off on the interstellar journey to her new life... but when the Medusae (jellyfish-like creatures from a water-worshiping world) attack her ship, leaving Binti as the only survivor, she becomes a figure of immense notoriety.

Binti is actually a collection of three novellas, and it shows. Rather than developing her story around a strong narrative structure, Okorafor devotes herself to impressively creative descriptions of people, places, and objects, creating a universe of dazzling strangeness. But while I suspect her plot was fully developed in her head, on the page it feels more like a series of connected vignettes. The individual elements are all exceptional, but I wish Okorafor had fused them into a story that was even greater than the sum of its parts.

Review based on publisher-provided copy.
No new comments are allowed on this post.