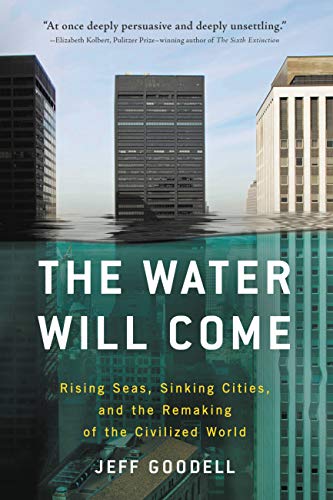 It has been more than six months since my
last review
of a gloomy nonfiction book about water, so I'm clearly way overdue. Today's pick is
The Water Will Come: Rising Seas, Sinking Cities, and the Remaking of the Civilized World
, the latest effort from
Rolling Stone
contributing editor Jeff Goodell. By taking his readers on a tour of twelve countries, each facing its own set of climate-change-related challenges, Goodell paints a compelling picture of the current state of the planet, and speculates about the changes coming in the near future. (Spoiler: things are already dire, and they will almost certainly get worse.)
I usually love reading nonfiction written by magazine journalists—nobody does a better job of breaking down complex subjects into entertaining, easily comprehensible information—but I found myself wondering about the target audience for this book.
The Water Will Come
is full of fascinating individual elements, but there doesn't seem to be much of a narrative structure beyond "look, this is where the planet is at". Goodell specifically says that his book isn't aimed at changing the minds of climate change deniers, but I suspect most of my fellow climate change believers are looking a plan of action, not just a well-written guided tour of the many and varied disasters currently staring us in the face.
No new comments are allowed on this post.