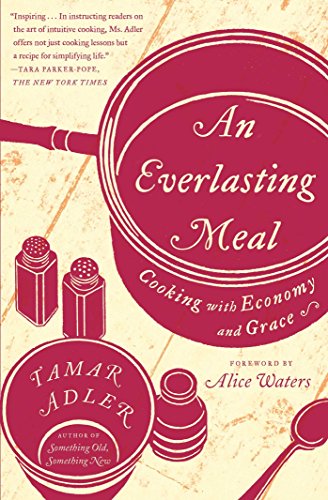 As longtime readers know, while Wordcandy usually sticks to reviewing fiction, I make the occasional exception for nonfiction titles about stuff I consider to be of general interest—usually books about food, money, or the environment. Tamar Adler's
An Everlasting Meal
is touches on all three of those subjects, so it jumped to the top of my-to-be-read pile.
An Everlasting Meal
is divided into chapters with titles like "How to Paint Without Brushes" and "How to Snatch Victory from the Jaws of Defeat". It is less a cookbook than a series of essays with recipes scattered throughout. I was a little taken aback by Adler's poetic writing style, but eventually I fell into the rhythm of it, and cruised through paragraphs like this:
"Children must help shell peas. In a world of things too big, getting peas from pods is a chance for pea-sized people to exercise authority. Always told to put things back where they found them, here, children have it right. Pea shelling goes only in one direction: dig, disperse, and never look back."
(If you don't have kids, I guess bagged, frozen peas are your only option.)
Airy pronouncements about pea-shelling aside, this is actually a really solid guide to being budget- and- environmentally-conscious in the kitchen. I might never use the exact recipes featured in this book, but I'm going to do my damnedest to live up to Adler's more general advice on cooking meals that are delicious, inexpensive, and designed to avoid waste.
No new comments are allowed on this post.