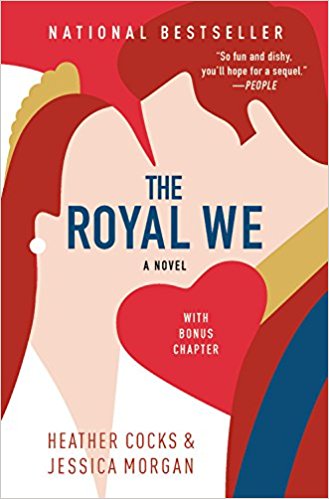 When it comes to royalty-themed entertainment, Heather Cocks and Jessica Morgan's novel
The Royal We
is more realistic than the many princess-y Hallmark movies, more grown-up than Rachel Hawkins'
Royals
, and grander in scope than Meg Cabot's effervescent Princess Diaries—but it isn't quite perfect. Despite its manifold attractions (and they really are manifold!),
The Royal We
is simultaneously a little
too
realistic and not quite realistic enough.
Cocks and Morgan's story mashes together real events, rumors about the younger British royals, and the fruit of their own imaginations. Their heroine is American college student Bex Porter, who is stunned to discover that her study-abroad experience at Oxford University has brought her into the inner circle of Nicholas, the second in line to the British throne. Nick and Bex are utterly charmed by one another, although aware that a happily-ever-after is unlikely. But as the years pass and their carefree college fling develops into a real relationship, both struggle to accept everything they must give up to be together.
So much of
The Royal We
works: Cocks and Morgan's writing styles blend seamlessly, their pacing is spot-on, their background characters are wonderful, and they obviously did loads of research. The novel's protagonists are not direct parallels to Kate Middleton and Prince William, but there are strong similarities, including their years-long courtship and depiction by the British media. Unfortunately, the reality-inspired bits of this novel sap its effectiveness as a romance, and the authors have nothing but their own solid storytelling to blame. Sure, their fictional prince is more appealing than his real-world counterpart, but even he isn't dreamy enough to offset such vividly-illustrated miseries. I mean, truly vicious tabloid gossip? Ghastly relatives? A lifetime of wearing
nude pantyhose
?!? Nicholas would need to be at least 200% sexier to make such sacrifices worthwhile.
But while their romantic plot is bogged down by reality, Cocks and Morgan's heroine requires a
lot
of suspended disbelief. Bex is laid-back and utterly free from royal ambition—which actually makes her seem a little pathetic. I have no idea what Kate Middleton or Meghan Markle are like in reality, but I would bet my bottom dollar that neither one of them are even remotely laid-back or unambitious. And that's fine! They're sacrificing a lot, so I hope they really care about they're gaining in exchange! Bex, in contrast, loves Nicholas with such devotion that she's willing to give up nearly everything to be with him. That might be noble, but it also makes for an underwhelming narrative arc. I realize that it probably would have been tricky to make a ruthlessly conniving social-climber into a sympathetic heroine, but I think Morgan and Cocks could handle it, and if they ever write a sequel to
The Royal We
I hope their next protagonist makes
Becky Sharp
look like a piker.
No new comments are allowed on this post.