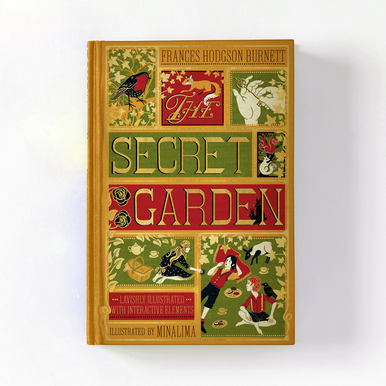 MinaLima is a graphic design studio best known for providing all the paper goods for the Harry Potter movies—the newspapers, candy wrappers, books, and other ephemera that make that film world feel like a real, lived-in place. When I learned they were working on a handful of interactive editions of classic children's stories, I was super excited—but that was before I saw the titles. Of the five books they chose, only The Secret Garden struck me as a subject worthy of their talents (and my $29.99).

As always, when we review special editions of classic books, we're assuming you've already read the original. If you haven't already read The Secret Garden, you are missing out. Apart from some period-typical classist and racist language, it's the quintessential children's fantasy: a story about finding a secret spot of one's own, a beautiful, hidden place where one can hide away and grow strong and healthy and pretty. The characters are unusually nuanced (well, except for Dickon, who is like St. Francis without the spicy backstory), and Frances Hodgson Burnett's world-building is a sensory delight.

This is the highest compliment I can pay: I loved this edition of The Secret Garden so much I'm tempted to buy the other books... even noted miseryfest The Little Mermaid. This book is exquisite. The illustrations are beautifully suited to the story, the interactive elements (which include a paper doll set, maps, letters, vignettes of key moments, and a spinner showing the life cycle of a rose) are a pleasure to handle and reassuringly sturdy. And while I mentioned the cost above, for once it wasn't a complaint. For a product of this quality, thirty dollars is an absolute bargain.
No new comments are allowed on this post.